Thrilled to be sharing this #guestpost from N.M. Brown as part of the Carpenter Road blog blitz! My thanks to Sarah Hardy and Bloodhound Books for the invite!  How about we find out a bit about the book and the author first!
About The Book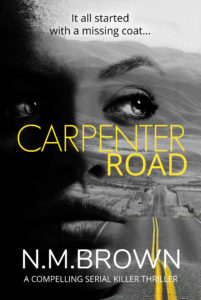 When a young woman swaps coats with a prostitute then vanishes, it marks the start of a mystifying case for Leighton Jones.
After traffic officer Leighton is called to an altercation in a used car lot he is confronted by a prostitute rambling on about a girl who stole her coat. He thinks nothing off it. That is until the body of a Jane Doe shows up, matching the prostitute's description.
What is the link between the fight in the car lot and the dead woman?
Leighton proceeds to gather evidence, which he attempts to pass onto the lead Homicide detective, Slater. However, Slater tells Leighton to back off, and that a suspect has been arrested.
Fearing there is more to the case than he first thought, Leighton is driven to keep digging and soon ends up on the trail of a serial killer.
But Leighton might be out of his depth this time…
About the Author: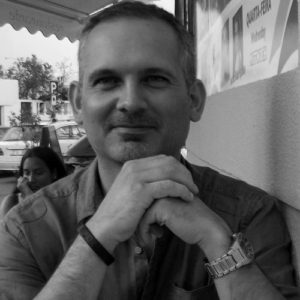 Norman has enjoyed writing for more than two decades. He has always believed a combination of decent fiction and good coffee provides the best way to unwind and slip out of ordinary life for a while.
Having grown up Central Scotland, he studied English at Stirling University, where he began penning poetry, drama scripts and short stories. However, his real commitment to writing resulted from spending a snowy winter attending a series of fireside writing workshops in Perth.
More recently, Norman's love of crime fiction led him to create the weary
detective Leighton Jones. Having based his debut novel – The Girl on the Bus -around this character, Norman felt so intrigued by him that he decided to give Jonesy at least two more outings. Carpenter Road is the second novel to feature this protagonist.
Aside from his family, and travelling, Norman's other passion is cooking, which may explain why many culinary elements always seem to creep out of his kitchen and into his fiction.
Author links: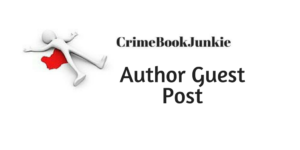 Where did you get the idea for Carpenter Road?
That's an easy one to answer. The story was inspired by the setting. When writing the first Leighton Jones novel – The Girl on the Bus- I wanted to make the central character as real as possible, without getting too tangled up in backstory. I therefore tried to include just enough details from the past to give the reader a sense of the Leighton's history, and hopefully make him a little more three dimensional.
In that capacity, there are a couple of times when police officers make references to a historical incident at Black Mountain involving Leighton Jones. We never find out what it was, but some of Leighton's colleagues seem impressed by it. We are also told that the incident also resulted in Gretsch becoming Chief of Oceanside P.D. In his typical style, Leighton is reluctant to speak about it.
Carpenter Road is the story of that incident.
I got the seed of the idea when I was originally researching the San Diego area whilst writing the first novel. As I poured over the maps, I made notes on any places of interest. Most of the time I was looking for good places to hide a sinister old bus. However sometimes I would simply notice an intriguing place name. One such name was Black Mountain. When I first read those two words, my mind was flooded with images. It sounded like the perfect place for the climax of that novel. To me, the name conjured up images of a craggy place – some fusion of Tolkien's Mount Doom and Castle Dracula. After pouring a cup of coffee, I sat down at my computer and began looking at images and street views of Black Mountain. I felt my heart sink…
Rather than some sinister location, Black Mountain was actually a rather picturesque area of California, complete with a private development of luxury homes. However amongst the many images, I discovered one which hinted at a darker side to this beautiful part of the country. It was a picture taken from the fascinating website: hiddensandiego.net, featuring an old mineshaft in Black Mountain Canyon. Obviously, there was no way to take my scary old bus into a mineshaft – although I did eventually use the idea of it tumbling into a canyon – so I saved the images in a folder of potential locations.
In that same folder were images relating to a second place name that had also struck a chord with as I read it was Carpenter Road. For some reason it reminded of the absolutely terrifying The Walrus and the Carpenter by C.S. Lewis – you can easily find it online if you're brave enough. I had read the narrative poem at university and it gave me nightmares. In the poem, the eponymous characters are described walking along a beach where they encounter a group of little oysters. The seemingly respectable convince compliant little oysters to accompany them on a walk to some distant rock. Upon stopping for a rest, the oysters look in horror as their two new friends produce bread and vinegar and begin to feed… Many academics have debated the significance of these two characters, but to me they were simply killers.
Once I had completed The Girl on the Bus, I sat down in front of the computer to write the prequel and opened the folder of locations. Seeing images of both Black Mountain and Carpenter Road together was enough to ignite my imagination. I therefore decided to write a story involving a character who shows up – like the Walrus and the Carpenter- in desolate places to kill whoever they want. Fortunately, for me, Carpenter Road in Oceanside is a fairly deserted place at night and fits the idea well.
As for Black Mountain and the old arsenic mines, I decided that this would serve as the belly of the beast for Leighton Jones. A mineshaft is dark and remote. Not the sort of place you want to enter to confront a serial killer.
So the settings helped inspire the story. Of course I still had to consider how a traffic officer – as Leighton was at the time – would become embroiled in the case. I figured that the simplest way would be to start off with a car, a missing person, and a witness that nobody would believe. At that point I knew I had a story that even as the writer had me hooked.
Hopefully it will have a similar effect on some readers too.
Huge thanks to N.M. Brown for joining me on my blog today with this fab guest post. Make sure to follow the rest of the tour here: