Happy Publication Day! ??
Woohoo! Thrilled to be one of the bloggers hosting A.J. Waines' Don't You Dare blog blitz today! I have this book on my immediate TBR (yay!) so today I'm sharing a fabulous Q&A with the lady herself! How about we find out a bit more about the author and her book!
About The Author
 
AJ Waines has sold over 450,000 books worldwide and topped the UK and Australian Kindle Charts in 2015 & 2016 with her number one bestseller, Girl on a Train. Following fifteen years as a psychotherapist, she is now a full-time novelist with publishing deals in UK, France, Germany, Norway, Hungary and USA (audiobooks).
Her fourth psychological thriller, No Longer Safe, sold over 30,000 copies in the first month, in thirteen countries. AJ Waines has been featured in The Wall Street Journal and The Times and has been ranked a Top 10 UK author on Amazon KDP (Kindle Direct Publishing). She lives in Hampshire, UK, with her husband.
AJ Waines – Social Media Links:
About The Book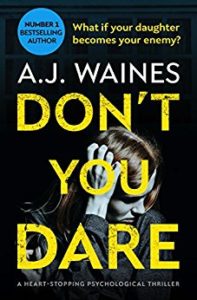 What if your daughter becomes your enemy?
When barmaid, Rachel, discovers her soon-to-be-married daughter, Beth,​ pinned down by a stranger in the pub cellar, Rachel lashes out in panic and the intruder ends up dead. In desperation, Rachel convinces Beth they should cover up the crime and go ahead with the planned wedding in one month's time.
Rachel, however, has her own reasons for not involving the police.
Hiding their dreadful secret is harder than they both imagined and as the big day approaches and the lies multiply, Beth becomes a liability. Rachel looks on in dismay at the hen party​ ​when, after too many drinks, Beth declares she's about to make a special announcement. But before Beth can say a word, she disappears…
When two people share a chilling secret, can both hold their nerve?
This book explores the dark side of a mother-daughter relationship when pushed to the limit.
It will appeal to fans of authors like Ruth Ware, Clare Mackintosh and C.L. Taylor.

AJ Waines was a psychotherapist before she began transforming her experiences of working with dark emotions into gripping material for her own Psychological Thrillers. With her seventh novel about to be released, she has sold over 450,000 books and has been a number one bestselling author in the entire UK and Australian Kindle charts. Fascinated by secrets, lies and anything hidden under floorboards, she writes sinister suspense thrillers with mind-bending twists at the end!
Describe you Don't you Dare in one sentence.
A misunderstanding leads to murder, leaving a mother and daughter trapped in a terrible dilemma that will affect their lives forever.
What is your main character called? What three words would you use to describe them?
Rachel Kendall. She's best described as a devoted and protective mother, who acts rashly on instinct.
Can you tell us one positive and one negative trait of your main character?
Rachel wants the best for her twenty-three year old daughter, but she can't see how her own issues are clouding her judgement. She ends up misinterpreting a situation very badly and it ends in tragedy.
Can you tell us about your books (in general)?
As a former psychotherapist, it was a natural progression for me when I first had a go at writing fiction to choose psychological thrillers as my genre. I'd worked with ex-convicts from high security institutions, so I felt I had some insight into the disturbed and criminal mind. I also love a good 'murder mystery', so as a result, my books tend to have both a tangled mystery on the surface and a dark psychological thriller lurking underneath, with that essential twist at the end, of course!
At the start of each book, an incident usually takes place which shakes the protagonist's world upside down. My main character (usually a woman) is pushed to breaking point, faced with lies, deception and secrets and gradually as the plot unfolds the mystery and the psychological elements become entwined. In Don't you Dare, a woman misjudges a situation and finds herself with a dead stranger at her feet. The story is about how the dynamic between a mother and daughter is tested to breaking point, when one wants to tell the police and the other won't hear of it.
What does your writing day look like?
I'm at my desk at around 8am and apart from a mini break at lunch, I tend to stay there all day and have to be peeled away from my keyboard when it's supper time. I take notebooks with me everywhere if I need to go out, and I'm always jotting down ideas, but I can never focus in a park or coffee shop to do the real work. I wish I could! I can only work at home in my study with nothing but silence around me. For some jobs (answering emails, monthly accounts), I can have music playing (Mozart's Requiem is a favourite), but not during the creative cycle itself, such as plotting, drafting, editing. I have a publisher for my next two books, so I can hand over a lot of the hard graft to them, giving me more time to engage with readers, which is lovely.
Who is your favourite crime author? (and why)
Belinda Bauer. Her writing is quirky, poignant and macabre with a brilliant injection of humour. How can anyone combine those elements and make it work? Belinda cracks it every time.
What is your favourite book of theirs? (and why)
Rubbernecker is probably my favourite. There are many threads to this story that interweave in a complex, refreshing and fascinating way, taking psychological thrillers to a new level. The author also manages to address issues such as communication, isolation, the assumptions we make about coma victims and empathy in a chilling page-turner. An absolute must-read!
What is the book you wished you'd written and why? (any genre)
Notes on a Scandal by Zoe Heller. It's is a clever slow-burn story about the toxic mix of jealousy and admiration, stunningly executed.
Where are you from?
I moved to Hamble, on the south coast recently, and before that I lived in Southampton for around 12 years. Before that, London, Reading, Birmingham and Manchester. I was originally born and brought up in Middlesbrough and seem to have spent my entire life working my way South!
Finally, tell me one weird and wonderful fact about yourself.
I failed my English literature GCSE. It's a bit embarrassing really, as I'd always been near the top of the class! It meant I didn't study English at A level as planned. Who knows if it would have made any difference, but I didn't ever start fiction until much later in life, although I've always loved writing essays. My journey shows that anyone can have a crack at it!
Thanks so much, AJ (Alison) for popping by my blog and to Sarah Hardy for the invite! Make sure to check out the rest of the tour and #WatchThisSpace for my review!