I am thrilled to be closing down Marnie Riches' blog tour for The Girl Who Got Revenge today. I have an awesome #guestpost from Marnie who talks about her main character, George and how she has changed over the fictional years. Love it! First though, let me start by telling you a little about the author and Book 5 in this series!
About the Author
Marnie Riches grew up on a rough estate in Manchester. She learned her way out of the ghetto, all the way to Cambridge University, where she gained a Masters degree in German & Dutch. She has been a punk, a trainee rock star, a pretend artist and professional fundraiser. Previously a children's author, now, she writes crime and contemporary women's fiction.
Marnie Riches is the author of the best-selling, award-winning George McKenzie crime-thriller series, published by Avon at Harper Collins. The Girl Who Wouldn't Die – the first outing for crime fiction's mouthy, kickass criminologist – won the Patricia Highsmith Award for Most Exotic Location at the Dead Good Reader Awards 2015, whilst the series was shortlisted for the Tess Gerritsen Award for Best Series in the Dead Good Reader Awards 2016. With the fifth title in the series – The Girl Who Got Revenge – out now, the books have garnered both a loyal readership and critical acclaim. All five books will finally be available to buy in print from April onwards!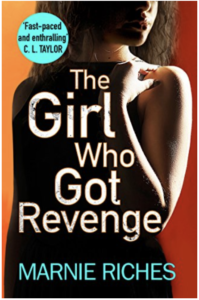 Revenge is a dish best served deadly…
A twelve-year-old girl is found dead at the Amsterdam port. An old man dies mysteriously in a doctors' waiting room. Two seemingly unconnected cases, but Inspector Van den Bergen doesn't think so…
Criminologist George McKenzie is called in to help crack the case before it's too late. But the truth is far more deadly than anyone can imagine… Can George get justice for the dead before she ends up six-feet under too?
A heart-racing thriller packed with secrets, lies and the ultimate revenge, perfect for fans of Steig Larsson and Jo Nesbo.
The fifth gripping thriller in the Georgina McKenzie series.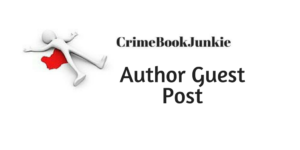 The Girl Who Got Revenge – George's coming of age by Marnie Riches

When I was writing this fifth instalment in the George McKenzie series, it felt like a milestone to me. Five books, eh? Five! Sustaining a series for that long is no mean feat. As the author, you have to come up with a fresh, gripping and relevant story for each novel – a hard enough task as it is, particularly when you write them close together, as I have. But what's trickier is that you have to keep them thematically consistent, and the returning characters all have to follow developmental arcs that are in keeping with the passage of time and their experiences.

There are approximately ten fictional years that elapse between The Girl Who Wouldn't Die and the most recent events in The Girl Who Got Revenge. George goes from being a relatively naïve twenty year old in my debut – though nobody could dispute that younger George has great street-smarts – to a much wiser thirty-year-old. Her partner, Van den Bergen, has aged with her and is on the cusp of fifty. Their relationship has evolved from the heady chemistry of a fledgling love affair that blossomed from their close working relationship into an established romance, albeit one with no real fixed abode. In the course of the decade of thrills, spills and paying bills, George's attentions are now firmly focussed on practical matters – her family's well-being, her finances and her career. Like most thirty year olds, she realises in The Girl Who Got Revenge that she needs to plan in earnest for the next ten years. The foundations on which her budget-airline jet-set existence are built, however, are somewhat shaky. Van den Bergen is a new grandfather and has only nappies and baby-sitting duties on his mind when he's not working a case of four mysteriously dead old men and the discovery of a truckload of trafficked Syrian refugees. George wants more than the long-distance relationship he is offering and she's no longer content to play second fiddle to Tamara, his daughter and little baby Eva. Quite rightly, George feels she warrants more than flitting back and forth, staying in his space or her Aunty Sharon's but never her own.

It was important to me in this fifth book to reflect George's increasing maturity. Where she was headstrong and outspoken whilst still a much younger student, as an academic on the payroll and freelance criminologist, hired for her professional expertise by the Dutch police, she must now bite her tongue when necessary. She is prepared to give her boss and mentor, Professor Sally Wright an apology as a peace-offering, though she knows she's done nothing wrong apart from ruffle a powerful woman's feathers. Young George would never have pandered to Sally Wright's ego. Older George must prioritise paying her bills above any battle of wills. But Van den Bergen is a different matter altogether…

With George's ailing mother and vulnerable father more deserving of her attention back home, George knows she has to take Van den Bergen to task over his failure to commit. His expectations in The Girl Who Got Revenge that she will sacrifice her own family obligations so that he can fulfil his are unfair, and George calls him out on it. After ten years' of being together, she deserves more, doesn't she?

I wanted to reflect in the book how George, who set out wanting a fairly strings-free romance ten years earlier, now recognises her own value in a relationship that is no longer meeting her evolving needs. She's wise to the fact that she's being taken for granted and sidelined by Van den Bergen in favour of his daughter and granddaughter. It's a familiar story, isn't it? The seven year itch – or ten year itch, as is George's and Van den Bergen's case. But she's older and wiser. George is a grown woman, confident enough to make her demands clear. The question that the book poses, is, 'What does the future hold for George?"

Well, spoilers aren't my thing, so you'll have to read it to find out and decide for yourself!
Huge thanks to Sabah Khan, Avon Books and of course, the fabulous Marnie Riches for having me on the tour and for this amazing guest post. Have a look at the other reviews and posts for the tour – just because it's over, doesn't mean it has to end!