Woohoo! My stop on Mary-Jane Riley's DARK WATERS blog tour and I have a fabulous #guestpost from the author on….eeeeeek….CHARACTERS! First though, how about I share some info on the author and her book!
About the Author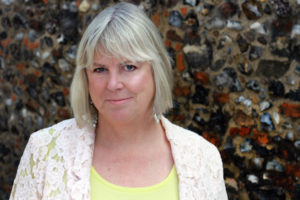 Mary-Jane wrote her first story on her newly acquired blue Petite typewriter. She was eight. It was about a gang of children who had adventures on mysterious islands, but she soon realised Enid Blyton had cornered that particular market. So she wrote about the Wild West instead. When she grew up she had to earn a living, and became a BBC radio talk show presenter and journalist. She has covered many life-affirming stories, but also some of the darkest events of the past two decades. Mary-Jane has three grown-up children and lives in Suffolk with her husband and two golden retrievers.
DARK WATERS is her third crime thriller featuring investigative journalist, Alex Devlin.
About the Book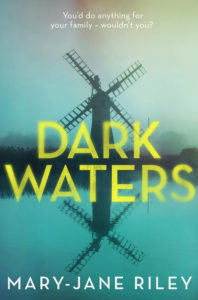 DARK WATERS is the third crime thriller in the series featuring journalist Alex Devlin. It begins with a macabre discovery on board a pleasure cruiser on the beautiful Norfolk Broads – the decomposing bodies of two elderly men. It appears the dead men did not know each other and police suspect an internet suicide pact.
Alex's search for the truth reveals a darker story. She finds a connection between the two men and possible links to other unexplained deaths.
As she investigates further, the stakes rise and her own family becomes embroiled in the mystery. Her inquiries lead her to the University of Cambridge. Could the roots of the puzzle lie there with a tragedy that unfolded amongst a group of carefree students many years before?
Long-buried secrets come to the surface and Alex's life and the lives of her family are on the line. As the past and the present collide, Alex questions everything she thinks she knows about those she loves.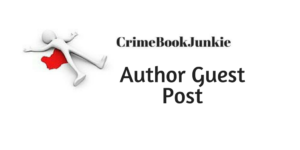 Write a post on characters, she said. I love posts about characters, she said. Looking forward to seeing your post about characters, she said. Well, CrimeBookJunkie is not one to be argued with, so a post about characters it is.

I wish I could say I had one of those useful pieces of paper that list a character's likes and dislikes and all that, you know the ones I mean. Where you record the 'colour of eyes' and 'name of dog' or 'best subject at school', but I don't. I did try, but it didn't work for me. I tried to interrogate my characters, but that was pretty dull too. I know people who write pages about their main characters, getting to know them really well. I wish I could do that. The trouble is I like to get writing, into the story as soon as I've got a bit of an idea and a tiny bit of a plan. Interestingly (it is to me anyway) I also love the actual physicality of typing – I find it deeply satisfying.

So how do to create your characters, for pity's sake?

Good question. When I first started writing about Alex Devlin, I chose her to be a journalist because that's what I was at the time, and I thought at least I didn't have to research a new job. Having written stories about murder and grieving families I started thinking about how I would react if I had the chance to talk to someone who had in some way destroyed my family. How would I do it? How would I react? That gave me the starting point for my character, Alex Devlin. How would she react? I kept her in my head while I thought about the people around her. The next most important person is Sasha, her sister, who Alex has to go out of her way to support emotionally. Sasha is damaged and vulnerable, and we get to know Alex more by the way she interacts with her sister. Alex, as I say, supports her, but she is also exasperated by her and fed up that she's to sacrifice some of her own happiness for Sasha's.

Then there is the love interest, Malone. Years ago I wrote a romantic novel with a hero called Malone. He was Irish with black curls and twinkly eyes (step forward Kit Harrington). You see, nothing is wasted in writing because I brought him back. And still with the single name. I wanted him to be a bad boy, so he's an undercover cop who, underneath the charm and blarney, is extremely ruthless and doesn't always play by the rules. He's a little in love with Alex, probably the first person he has felt love for in a very long time. Although it seems he leaves Alex in the lurch on more than one occasion, perhaps he has an honourable reason. Or perhaps not. Maybe Alex won't put up with the emotional rollercoaster that is her relationship with Malone for much longer. Maybe we find out in Dark Waters.

Over the three books featuring Alex Devlin those three characters in particular have grown organically and possibly become more rounded and I really do feel as though (cliche alert) I know them as if they were real people with flaws and complexities. I keep them in my head and think about them a lot of the time.

And when I stop writing about Alex and co.? Yes, I'm really going to miss them.
YAY! ?? You did good, Mary-Jane. No, scratch that….you did GREAT! I absolutely LOVE this post on characters and want to thank you for sharing it with me! And #bookjunkies, how about showing some #booklove and following the DARK WATERS tour (see below) or better yet….buy the book! ?