Happy Publication Day Caroline Mitchell – Silent Victim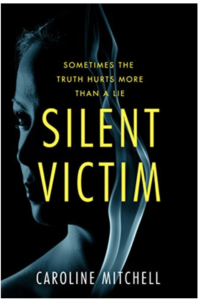 About the Book:
Emma's darkest secrets are buried in the past. But the truth can't stay hidden for long.
Emma is a loving wife, a devoted mother…and an involuntary killer. For years she's been hiding the dead body of the teacher who seduced her as a teen.
It's a secret that might have stayed buried if only her life had been less perfect. A promotion for Emma's husband, Alex, means they can finally move to a bigger home with their young son. But with a buyer lined up for their old house, Emma can't leave without destroying every last trace of her final revenge…
Returning to the shallow grave in the garden, she finds it empty. The body is gone.
Panicked, Emma confesses to her husband. But this is only the beginning. Soon, Alex will discover things about her he'll wish he'd learned sooner. And others he'll long to forget.

My Review:
My thanks to the author, Caroline Mitchell for an ARC of this book – below you will find my honest opinion/thoughts on this novel.
Set on Mersea Island/Colchester the reader is immersed in a world where a fear of discovery, abuse of trust, lack of self- control, manipulation, secrets, guilt, shame, vulnerability and mistrust wraps itself around us as we follow the story to uncover the truth but… Sometimes the truth hurts more than a lie. ?
Wooooo- weeee! What an intense prologue – my mind was racing with questions, I was definitely hooked! ??  Moving from the past to the present and through three different POV's we get a feel of each person's perspective but ultimately are none the wiser. Who should we believe? I love an unreliable narrator and I was not disappointed in this novel. I feel they give psychological thrillers an authenticity, so *high five* to the author for nailing it!  ?? The plot was relatively fast-paced in my opinion and the suspense unnerving. In terms of being unputdownable, this book definitely had me! #BOOM! ??
Well what a messed up cast of characters – Perfect!! Emma was well written and in the main, believable …though at times, I did scratch my head and wonder about her. ? The eating disorder and deterioration of her mental well being was very relatable and really made me feel sorry for her. With trying to hide the murder of her leacherous teacher whilst be a loving wife and mother, this poor woman had a lot on her plate – but is what she is telling everyone…including the reader true?
Alex is Emma's husband and takes his wife's secret reasonably well, then flips out and then calms down again. I wasn't sure what I made of him. I liked the way he works out things before confronting people, and I understood why he behaved the way he did – I just didn't like him ? And that is not a criticism at all, something about him niggled at me and that is what I love about characters – if they stay with me – get under my skin, the author has mastered that characters voice …and she did!
OMFG ? Luke or the lech, a more apt name for this vile man – so well written, I still cringe just thinking about him! In fact, he just makes me feel dirty and I want to scrub away every thought of him from my mind. ? The authors previous experience in the police shines through with this character. Totally-Friggin-Nailed -It! Master manipulator of vulnerable young girls, he was clever, cunning and absolutely awful as a person. I hated everything about him and wished every time I saw his name that Emma had killed him when she thought she had!
As an author, Caroline really knows how to create characters that get under our skin, whether we love them or loathe them, they stay with us. I thought the ending was wrapped up a little too quickly for my liking but that works sometimes…maybe it's because I just wanted more!
Would I recommend this book? That would be an absolute Hell to the Yeah! The suspense took over and although I figured out some things, I was still surprised I was right. If you like page turning, intense, enthralling storylines that will have you questioning everything – this book will definitely mess with your mind!
Grab your copy from amazon today! It is well worth it! ????