Now this is something that I think you crime fiction lovers will enjoy! As part of London Book and Screen Week there will be a series of events celebrating literatures leading ladies – How COOL is that!?
This event certainly caught my eye- Crime, Christie and Cream Tea event – a bus tour around the famous sights in London as featured in Agatha Christie's work. Eeeeeek!
A little bit about what you can expect:
Evoking the nostalgia of times gone by, jump on board a classic Routemaster bus for cream team and a tour of London sites, taking in some of the iconic locations associated with Christie's work.
Passengers are to arrive no later than 4:45pm – the bus will depart at 5pm
Alcohol will not be sold on board the bus – prosecco can be ordered as an additional item when booking your ticket.
The tour will last approximately 2 hours.
Once the tour has finished you will be dropped off at Victoria Embankment
Please be aware that there is no toilet on the bus
The closest tube to the departure point is Victoria.
Tickets on sale now – https://www.eventbrite.co.uk/e/crime-christie-cream-tea-tickets-41459194567
And that is not all!  Check this out too!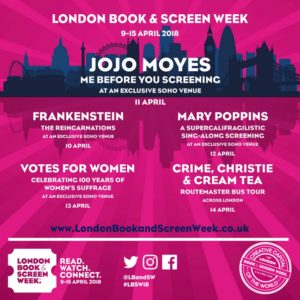 A special screening of Me Before You, the heart-warming box office hit starring Sam Claflin (The Hunger Games) and Emilia Clarke (Game of Thrones), based on the bestselling novel by Jojo Moyes. The sumptuous one-off screening will be accompanied by an in-conversation with Jojo who will discuss her experience bringing the book to screen.
Jojo Moyes worked as a journalist for ten years and has been a full-time novelist since 2002, when her first book, Sheltering Rain was published. Since then she has written a further eleven novels, all of which have been widely critically acclaimed. She has won the Romantic Novelist's Award twice, and Me Before You was nominated for Book of the Year at the UK Galaxy Book Awards. Me Before You has since gone on to sell over 12 million copies worldwide. Jojo wrote the screenplay for the film adaptation of Me Before You starring Sam Claflin (The Hunger Games) and Emilia Clarke (Game of Thrones). It was released in June 2016 and was a huge box-office success, grossing over $200M worldwide.
So get booking your tickets now!