Super excited to be hosting Claire MacLeary's BURNOUT blog tour today! Massive thanks to the awesome Gordon McGhie of Grab This Book for inviting me to take part and to Sara Hunt of Saraband Publishing for proving me with an ARC. First a little about the author and this book before I share my review!
About the Author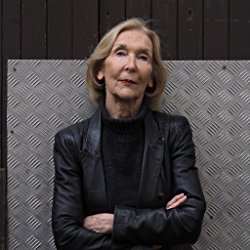 Claire MacLeary lived in Edinburgh, Aberdeen, and Fife, before returning to her native Glasgow. She describes herself as "a feisty Glaswegian with a full life to draw on".
Following a career in business, she gained an MLitt with Distinction from the University of Dundee. Her debut novel, Cross Purpose, was longlisted for Bloody Scotland's 2017 McIlvanney Prize for Scottish Crime Novel of the Year. A sequel, Burnout, will be launched in spring 2018.
Claire's short stories have been published in various magazines and anthologies, including In Memoriam, a tribute to those who have donated their bodies for research to Dundee's Department of Life Sciences.
About the Book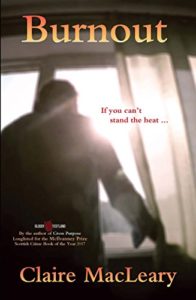 My husband is trying to kill me: a new client gets straight to the point. This is a whole new ball game for Maggie Laird, who is trying to rebuild her late husband's detective agency and clear his name. Her partner, Big Wilma, sees the case as a non-starter, but Maggie is drawn in. With her client s life on the line, Maggie must get to the ugly truth that lies behind Aberdeen's closed doors. But who knows what really goes on between husbands and wives? And will the agency's reputation and Maggie and Wilma's friendship remain intact?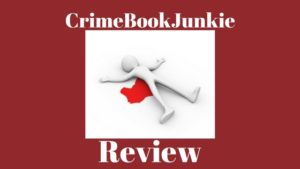 Set in Aberdeen, the reader comes face-to-face with fear, shame, manipulation, control, secrets/lies, relationships, friendships, adversity, grief, the fight for freedom and justice. I have yet to read Cross Purpose and after reading this, I felt a little like I was missing part of the picture – despite the author doing a brilliant job at filling in the backstory.
Well I will tell you something, there are so many interesting and fascinating characters in this novel to keep your mind occupied! This edgy, gritty and intriguing read with a relevant plot-line and fantastic narrative will keep you guessing until the very end. The author takes you into the depths of some disturbing, yet very real issues, and you can feel the desperation of the characters who are trying to right the wrongs or escape their invisible prisons. SUPERB!
This being my first meeting with Wilma and Maggie – I will mainly focus on this dynamic duo! They work together as PI's but could not be more opposite! I found them both to be very relatable and a realism that struck me instantly. I mean, either one of these pair could be my next door neighbour! Neither have any extraordinary super powers to help them solve their cases – they are just down-to-earth, regular human beings. They worry, they are vulnerable, they are smart but by no means genius' and they rely on each other more than they think. I loved how they just bounced off each other and Wilma is class! What a fantastic character. She just says it as she sees it! PERFECT!
Sheena was some character too. She comes across as sneaky to me but also with a vulnerability.  Same goes for Ras. I just didn't know what to think or believe.  I also liked the main police characters – Brian (a DS) and Chisolm (a DI) – Both seem to be carrying a torch for Maggie…hmmm… wonder how that will end up!
So, would I recommend this book? Oh hell-to-the-yeah, I would – in fact, I will soon go back to Cross Purpose so I am ready for the next in this quirky new series!  Littered with suspense, wit and a darkness that pulls you in, Burnout reminds us of the reality we often close our eyes too as well as the measures that some people might go to when they feel there is no way out… Awesome!!
Grab your copy here: