Absolutely

THRILLED

to be hosting Thomas Enger's

KILLED

blog tour today! Sharing the stop today is

Caryl

at

Mrs Bloggs The Average Reader

  so head over and check it out! Mahoosive thanks, as ever to the wonderful Anne Cater and Karen Sullivan / Orenda Books for asking me to be involved. We'll get the usual business out of the way and then I'll share my thoughts on this captivating read!
About the Author
Thomas Enger (b. 1973) is a former journalist. He made his debut with the crime novel Burned (Skinndød) in 2009, which became an international sensation before publication. Burned is the first in a series of 5 books about the journalist Henning Juul, which delves into the depths of Oslo's underbelly, skewering the corridors of dirty politics and nailing the fast-moving world of 24-hour news. Rights to the series have been sold to 26 countries to date. In 2013 Enger published his first book for young adults, a dark fantasy thriller called THE EVIL LEGACY, for which he won the U-prize (best book Young Adult). Enger also composes music, and he lives in Oslo.
About the Book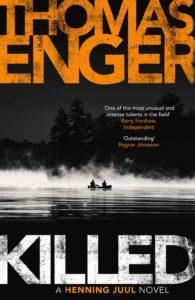 Crime reporter Henning Juul thought his life was over when his young son was murdered. But that was only the beginning…
Determined to find his son's killer, Henning doggedly follows an increasingly dangerous trail, where dark hands from the past emerge to threaten everything. His ex-wife Nora is pregnant with another man's child, his sister Trine is implicated in the fire that killed his son and, with everyone he thought he could trust seemingly hiding something, Henning has nothing to lose … except his own life.
Packed with tension and unexpected twists, Killed is the long-awaited finale of one of the darkest, most chilling and emotive series you may ever read. Someone will be killed. But who?
My Review:
Can someone tell me why it has taken me so long to read a book by this author? I mean, WTAF have I been doing? #MyBad – luckily I have the rest of the series, so I WILL be going back and catching up from the start. (I don't have to read a series in order, in fact – I rarely do unless I come across the book as a debut!) #DontJudgeMe 
The reader finds themselves in Oslo, Norway where you'll stumble across regret, loss, the search for answers/the truth, blackmail, betrayal, secrets/lies, the past, corruption, pain, payback and guilt. Can we get anymore emotional!? This book really goes deep into the depths of your soul and doesn't let go, that's for sure!
Well slap me silly – what a captivating prologue! It was quite morose but certainly hit you where it counts for maximum impact.  I loved the imagery and atmosphere of this book, beautifully captured so the reader feels, touches, hears, sees and smells everything about the place they are reading on the pages. I also loved the way the beginning was the end…or was it? Superbly done! The significance of the title is also a clever ploy as we know someone gets killed…but who? Told from the third person, we have various POV's to take us through the storyline – the writing, characters and descriptions were brilliant and again, I found myself dismayed by the fact that I have only just discovered this author! There was an underlying sadness that seemed to shroud every page and despite knowing what happened in previous books, it was a quite emotive read – you could feel the passion and determination of Juul as he searched for answers.
I was impressed with the Cast of Character that the author listed at the start of the book. I read through each and felt I got to know exactly what I needed to, in order to place them in the context of the story. Henning Juul is the main character and he's an investigative journalist who seems to have a knack for pissing the wrong people off! He also doesn't seem to know when…or care…about backing off.

LOVE

him! His backstory is sad but explains why he won't give up in his search for the truth and justice – even if it costs him. He also seems to be like a cat with nine lives – escaping numerous attempts from others to remove him from this life! He is stubborn, but also has a reckless side. I absolutely loved everything about this character and was invested in following him on his dangerous journey!
There were so many other characters I could mention – Juul's sister, the baddies, the police – however, I think you need to read the story to really grasp their significance. But I do need to mention Bjelland – only because every time I saw his name, I read Bell-end ….appropriate? Probably not but unfortunately I am rubbish at the pronunciation of names (ask poor Matt Wesolowski- or VezOhLofSki, the correct pronunciation …as I now know!) so I have to make them up to keep me from getting distracted from the story.
Would I recommend this book? You bet your sweet arse I would! Dripping with mystery, intrigue and suspense, this atmospheric crime thriller will keep you guessing until the very last page. Thomas Enger….you #killed it! (See what I did there?) I can't wait to go back and read this series from the start, but I also found this easy enough to read as a stand alone!
Grab your copy of KILLED now – you'll not regret it! Make sure to follow the tour too and see what everyone else thinks!