First I'd like to thank M.P. Wright, publicist Lina and Black & White Publishing for the ARC, the awesome coffin and the invite to take part in the Restless Coffins blog tour!  I really enjoyed the previous book in this series, All Through The Night and you can read my review here if you are interested!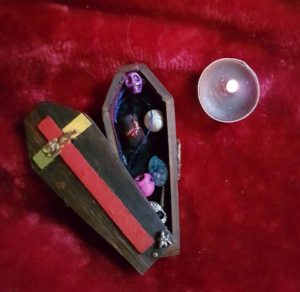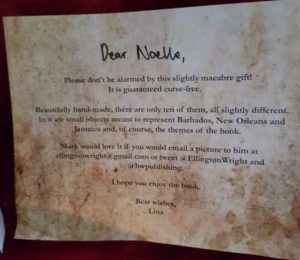 About The Book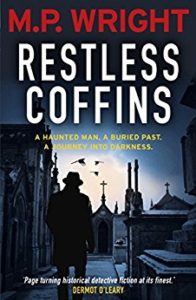 A HAUNTED MAN. A BURIED PAST. A JOURNEY INTO DARKNESS.
'Brother, a dead body can't run from a coffin, but their spirit sure as hell can try.'
1967, Bristol. Life is tough for JT Ellington, ex-cop and reluctant private eye. He's still trading in favours, helping those scared of the police or trying to stay one step ahead of the law.
But when news arrives of a tragedy that's unfolded thousands of miles away, JT's life gets even tougher. He needs to journey home to Barbados to pay his final respects – but first he must travel to New York, where his cousin Vic is boss of a criminal empire.
On Harlem's mean streets, JT is fast entangled with Evangeline – a smooth as velvet Black Panther – along with Pigfoot, a Bajan too flash with his knife. As the underworld draws him in, JT discovers the extent of Vic's criminal activities – a web of violence that stretches to Barbados and back, and connects him to the deaths of JT's beloved wife and daughter.
Embroiled in a world of drugs, corruption, voodoo and the legacy of slavery, can JT escape the demons of his past as he returns to the island of his birth?
My Rating: 4/5
⭐️⭐️⭐️⭐️
My Review:
Starting off in Bristol in the late 60's, the reader is taken on a journey to New York, New Orleans and the Barbados where loss, grief, corruption, racism, family secrets, betrayal, revelations, retribution and the truth are just a few of the themes that all come together in this "all is not what it seems" story!
The book starts way back in JT's childhood and really sets the tone for this emotive story. Although not a fast-paced read, the build up had me on tenterhooks, I knew something was coming – I just didn't know what! When it was delivered, it was definitely one of those punch-in-the-gut blows which I enjoyed because of the slow build up of suspense, mystery and tension throughout. I also loved the authenticity of the dialect and great descriptions which really had me right there in the moment. There was a rawness to the atmosphere, edgy and surreal at times when the reader is taken to the underbelly of the crime world in this era and man…it sure wasn't pretty!
Rich with some extremely well written characters, there are just too many I would love to mention, so I will give you a flavour in the hopes that it will entice you to pick up this book and find out more!
J.T. Ellington is the main character and works as an "Enquiry Agent" or Private Investigator as they are more commonly known. He is really put through the wringer in this novel and we see a more vulnerable side to him as the past comes back and really messes with his mind. He is determined, however to find the truth – no matter the cost and put the demons to rest. I really was invested in this character and it was great to see the difference in him from the last book compared to this book.
Evangeline Laveau was a brilliant character – all mouth but also quite vulnerable. J.T.'s cousin Vic has Evangeline taking J.T. where he needs to be when he arrives in New York and they both travel to New Orleans. I wasn't sure what to make of her initially but it didn't take long to warm to her bold and brassy nature.
Vic (Victor) is J.T.'s cousin and I won't spoil his backstory. Another one I was unsure about – he seems to have trouble two steps behind him at all times. He is very protective of his family and not wary of using violence when necessary. Despite their differences, you can see why J.T. and Vic remain close.
Conrad Monroe ….OMG! This is one messed up dude…and it seems that it runs in the family! ? He is a Bajan gangland boss and totally unscrupulous but he has A LOT of influence and that doesn't bode well for J.T or Vic….
Do I recommend this book? That would be a Hell Yeah, I do for sure! Intense, emotive, shocking and oozing atmosphere and character, Restless Coffins really captured the times and emotions beautifully! Don't worry if you haven't read the first two books (though you should as they are worth reading) as this book can easily be read as a stand-alone!