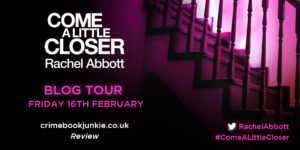 Oh Em Gee – ? I am over the friggin moon to be hosting todays stop on Rachel Abbott's

COME A LITTLE CLOSER

blog tour! I am a mahoosive fan of this author's books and cannot thank Maura Wilding enough for the ARC and the opportunity to take part! So let's find out a bit about Rachel Abbott and this

AWESOME

book before I share my review! ??
About The Author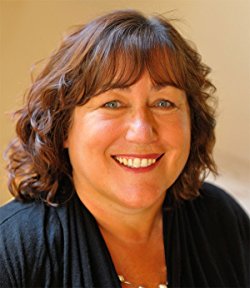 Rachel Abbott's debut thriller, Only the Innocent, was an international bestseller, reaching the number one position in the Amazon charts both in the UK and US. This was followed by the number one bestselling novels The Back Road, Sleep Tight, Stranger Child, Nowhere Child (a short novel based on the characters from Stranger Child), Kill Me Again and The Sixth Window. Her most recent novel, Come a Little Closer, is available from February 2018.
Rachel's novels have now been translated into over 20 languages and her books have sold over 2.8 million copies in the English language.
In 2015 Amazon celebrated the first five years of the Kindle in the UK, and announced that Rachel was the #1 bestselling independent author over the five-year period. She was also placed #14 in the chart of all authors. Stranger Child was the most borrowed novel for the Kindle in the first half of 2015.
Rachel splits her time between Alderney – a beautiful island off the coast of France – and the Le Marche region of Italy, where she is able to devote all her time to writing fiction. For more information, see Rachel's website, or follow her on Twitter.
Rachel's website can be found at
About The Book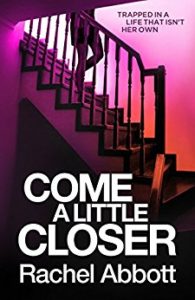 They will be coming soon. They come every night.
They will be coming soon. They come every night.
Fifteen miles away, two women sit silently in a dark kitchen. They don't speak, because there is nothing left to be said.
Fifteen miles away, two women sit silently in a dark kitchen. They don't speak, because there is nothing left to be said.
These strangers have one thing in common. They each made one bad choice – and now they have no choices left. Soon they won't be strangers, they'll be family…
When DCI Tom Douglas is called to the cold, lonely scene of a suspicious death, he is baffled. Who is she? Where did she come from? How did she get there? How many more must die?
Who is controlling them, and how can they be stopped?
My Rating: 5/5
⭐⭐⭐⭐⭐
My Review:
Woohoo! We are back with DCI Tom Douglas and domestic abuse, manipulation, betrayal, the past, survival, courage, control, mistrust plus the many faces of human nature at their worst are thrown at the reader to absorb!
I was instantly intrigued by the prologue and I knew I was in for a real edge-of-your-seat read! This story is told from various P.O.V's and the narrative is superb! Rachel Abbott delivers a tight and believable plot with some intricate and compelling sub-plots to really mess with our minds! BOOM! ? The suspense is perfectly drawn out and the reader is left waiting with bated breath to see what the outcome will be.

BLOODY LOVE THAT

! As usual, I was playing armchair detective alongside Tom and his team of fabulous coppers – and although I had sussed some parts out – the author threw a spanner in my investigation and really knocked me for six!
Relatable characters ?SHINE ? in this novel and the author has mastered the technique of showing how easy it can be to manipulate vulnerable individuals through what should be taken as normal, trustworthy human interaction. I thought Hannah was the perfect example of this. The inner conflict of strength and determination matched against her own vulnerability due to her personal life, left her wide open for what followed.
Thea and the Dr (Garrick) were another pair of great characters- a sweet, old couple? ?My spidey senses were on high alert with this pair. I thought these characters were extremely well written as throughout the story, you just don't know how to feel about them. Thea can be a bit over bearing but has a kind side – while the Dr just seems to be in the background….and jaysus…wait until…well, read the book – I won't spoil it for you!
Something else I loved about this book was the psych thriller / police procedural cross-over – so smoothly done it all just worked!  Sometimes when this happens, it can make a story quite disjointed, as if you are reading two or more separate stories – but Rachel Abbott works it seamlessly! I adore DCI Tom Douglas and his team – so of course I was over the moon when I got to immerse myself in the story as the extra member of his team!
As I mentioned earlier, I had figured some things out and got my cocky "I sussed this" walk ready when Rachel Abbott pretty much laughed in my face and threw me sideways – Oh, Noelle – you wee fool…nice try but maybe next time…
??? #AllTheFrigginBooms! ???
Do I recommend this read? Hmmm…let me think about that…?? 

OMFG

you bet your sweet 'ol arse I do! I read this book in one sitting…stayed up late and absolutely drank in every eery, ominous word which made my heart race and my nerves stand on end! Creepy to the core, Rachel Abbot never lets me down with her mind-blowing twists and downright sinister storylines. You can easily read this as a standalone, but I highly recommend treating yourself and grabbing as many of these books as you can!
Don't forget to follow this fab tour and see what these other

AWESOME

bloggers think too!