Morning all! Now that the dust has settled a bit in terms of the new year and holidays, I thought I would just up date you on what has been happening and what will be happening on my blog!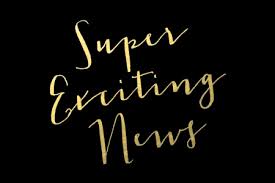 I think most of you are already aware that my 'lil star guest reviewer, Claire Knight has flown the nest and started her own blog!

#ProudMommaMoment

❤ I am so incredibly proud and pleased for her as I know she is going to smash it! ?? I'd love it if you'd follow her blog –

A Knight's Reads

(how cool is that name!) if you're not already doing so, of course! And make sure to keep up-to-date on all her fabulous reviews by giving her Facebook page a LIKE too: A Knight's Reads on Facebook. You can still follow her on Twitter here: @ClaireKreads too, if that's your preference!  So YAY for my wee star who'll always shine bright in my eyes! Well done, sweets! ??
My other but of news is that the FANTABULOUS BookAddictShaun will be occasionally stopping by to share the #booklove of some of his favourite reads. Shaun will not be taking on CrimeBookJunkie guest review requests – so don't ask for any guest reviews ? he'll be sending me some of his favourite reads each month so we can shout out about them! Woohoo! I'm thrilled to bits!
Scottydog is still around…somewhere…reading…and I'll still post his reviews as they come in, but like Shaun…no guest review requests…Shaun and Scottydog will be reviewing books they have read and want to shout out about.
So I am back to flying solo, and just taking a step back this year as I have so many books to catch up on, editing my first book (OMG I WROTE A BOOK!) and I have begun plotting out my second – plus life and all that…ya know!
Finally….my #Twinnie (

Sharon Bairden

of Chapter In My Life) and I will be going LIVE on Facebook – Friday February 16th at 8pm to chat books! ? I think we'll post it on one of our Facebook pages, but we'll put something up like the graphic below on social media once we iron out all the details! Come join us and tell us about your favourite reads, what you're looking forward to reading or ask us questions…we'll have a rhubarb gin and gingerale at the ready, so ask away! ?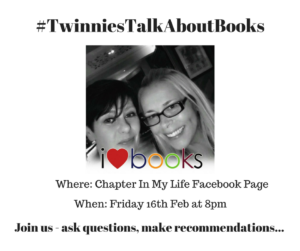 Ok..that's it! 2018 is set to be exciting and I just want to say THANKS for sticking with me! ?