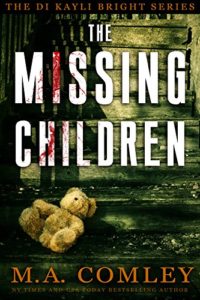 Synopsis
The first gripping thriller in the DI Kayli Bright trilogy.
"I want my mummy…"
The whisper seems to echo through the rooms of the abandoned house. DI Kayli Bright and her partner, DS Dave Chaplin, aren't strangers to dealing with bad cases, but no one can prepare for the emotional and mental anguish caused by the discovery of a child's remains.
Determined to find the responsible culprit, several of the dead child's family members surface on their radar of suspects…until they learn of another child's abduction.
The investigation leads Kayli to the shocking conclusion that even more children in the area have been abducted. A race against time ensues to find the children before they get lost in a sinister, evil world.
Killer on the Run (second book in the trilogy) on pre-order, release date 31
Hidden Agenda (third book in the trilogy) due to release Feb/March 2018
My thanks to the author for an ARC of this book…which I was dying to read/review! 
My Rating: 4/5
⭐️⭐️⭐️⭐️
My Review:
Nothing excites me more then when one of my favourite authors come up with a new series for me to sink my teeth into! ? The story is set in Avon & Somerset where child death, abuse, loss, grief, anger, betrayal, abuse of power and a search for justice pull the reader into the pages!
This is a controversial storyline, but also a reality that many authors shy away from. Fair play to M.A. Comley for being brave and tackling this issue without it being made into something sensationalistic. ?? The pace was quick and so I read it in a matter of hours. The characters (some I will mention a bit later in this review) were well written and I felt I had invested enough in them to want to know more. I have to say, my Detective skills ?️‍♀️were on ?FIRE ? as I had worked some of the story out after the case had started – but I love the fact that I had to wait until the end to see if I was right!
DI Kayli Bright- well HELLO new character I now adore! ?? Headstrong, intelligent, focussed and with a life outside of work- even if it is slightly unsteady! I am so excited to find out more about this character in Killer On The Run as I thought she was well written and instantly sparked my interest.
Mark is Kayli's fiance. Ex-Army and unemployed…I just wasn't sure what I made of him – this lasted throughout the story, and not in a bad way. I just haven't decided yet! He came across as a bit self-centered and woes-is-me at times, which annoyed the hell out of me. ??‍♀️ I wanted to shake him and say "Just grow a pair, will ya!" – but then I could understand why he felt that way so I was then like…"ok, ok…I get it". ??‍♀️ See what I mean? Dilemma! So we'll see if anything changes in the next book!
Another male character I wasn't sure about was DS Dave Chaplin. Kayli's partner and a bit brash at times, I wondered how he got away with his behaviour sometimes. On the other-hand, he is straight forward and says it how he sees it, and I like that. No games or BS with this guy! ?? I definitely want to see how his character develops in the series – I think there is more to come with this guy!
I am not going to go into any details in relation to the dark side in this book – except to say how disturbing, sinister and real it all felt. ? Really enjoyed the pull I felt – some conflicting emotions evoked that is for sure – but none that made me want to see anything other than justice served! ??‍♀️??‍⚖️
Soooo, do I recommend this read? Hell Yeah with bells on! ? I absolutely

LOVED

this new character and series by MA Comley- explosive, compelling, emotive and utterly addictive, I would suggest you grab your copy and get reading asap! ??