Today on my blog I have the final #guestreview post from my ✨'lil star✨ Claire Knight! Sad ? but exciting ? at the same time as you will soon be able to follow her blog,
A Knight's Read when she starts up in February! Woohoo! ? See…exciting! ?
So without further ado, let's find out what Claire thought about Andrew Barrett's THE END OF LIES…
 
Synopsis
My name is Becky. I arrived home to find my husband, Chris, stabbed to death and a gang of men ransacking our house.
Turns out that Chris has something that belongs to them. And if I want to stay alive, I have to find it and return it. They have given me seven days. And a beating.
There is nowhere to hide and no time left to look. So I will stand my ground as the deadline approaches. All I have is a head full of lies and a very bad plan.
This is my story.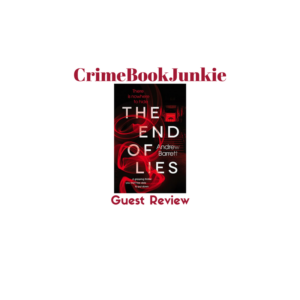 Claire's Rating: 4/5
⭐️⭐️⭐️⭐️
Claire's Review: 
Despite Andrew Barrett being local to me, I've not got my teeth into his Eddie Collins series. So when he announced he was writing a standalone psychological thriller, my interest was piqued! A perfect opportunity for me to get into his writing.
The story time jumps between chapters going from the present with Becky after her husband has been brutally stabbed to death and the past where we follow Chris get himself and Becky into a right old pickle. As the present collides with the consequences of the past and Becky tried to find a way out, she finds herself well and truly with her back against the wall. She becomes more unreliable as the story goes on and she runs out of options.
I really didn't know where Mr Barrett was taking me whilst I was reading The End Of Lies. I felt I was blindfolded with the odd slippage to get a brief glimpse of light with a revelation to the story.
Andy Barrett has written an addictive psychological thriller that keeps you guessing to the end. I'm looking forward to seeing what he does in his next standalone thriller and I really have to introduce myself to the charming Eddie Collins!
Many thanks to the author and Bloodhound Books for my copy of The End of Lies.
Fabulous review as always, Claire! And that's it! ? Absolutely LOVED having Claire on my blog – two years has flown! But I know she is going to #SmashIt with A Knight's Read!  If Claire's review of The End Of Lies has piqued your interest, head over to amazon and grab a copy now!
Good luck, my 'lil star! ? Though you won't need it at all!