Today on my blog, my ✨ 'lil star ✨ #guestreviewer Claire Knight tells us what she thinks about Adrian Magson's Rocco and the Nightingale. Read her full review below: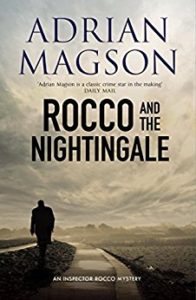 Synopsis:
When a minor Paris criminal is found stabbed in the neck on a country lane in Picardie it looks like another case for Inspector Lucas Rocco. But instead he is called off to watch over a Gabonese government minister, hiding out in France following a coup. Meanwhile, Rocco discovers that there is a contract on his head taken out by an Algerian gang leader with a personal grudge against him.
Claire's Rating: 3.5-4 ⭐️'s
Claire's Review:
I'd not heard of Adrian Magson or the character Lucas Rocco before so when Karen at The Dome Press contacted Noelle for a review, I scooted to Amazon to have a nosey at the series. And my interest was piqued. Set in France (I love France), a big city detective relocates to the countryside. This was something different!
I really enjoyed meeting Rocco; he was a well crafted policeman and he has a cracking name. I liked the way the author split the story between Rocco and the investigation and the bad guys who came in the form of Romain and Lilou. The story felt very French, despite the author being British both nationality and resident. My imagination created my own personal version of the countryside around Amiens in northern France. It's not an area I've been to but having spent a number of family holidays in Brittany and the Vendee, I could picture the quaint French towns and rural roads.
I will be returning to Amiens and Lucas Rocco in the future. The story might be at a slight slower pace than others I've read but Rocco and the Nightingale was packed with intrigue and kept me turning the pages, well tapping my kindle.
Many thanks to Karen Bultiauw and Emily Glenister at The Dome Press for my ecopy of Rocco and the Nightingale.
Thanks, Claire! Sounds like you enjoyed it! ?? If Claire's review has captured your interest, head over to amazon and grab a copy now. ?