Happy Publication Day to

Elle Croft

for THE GUILTY WIFE! My thanks to Orion for an ARC of this book!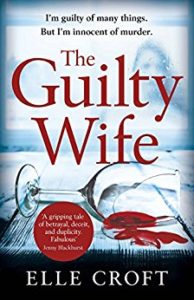 Synopsis
I'm guilty of many things.
Bethany Reston is happily married. But she's also having an affair with a famous client.
And no one can ever know.
But I'm innocent of murder.
When Bethany's lover is brutally murdered, she has to hide her grief from everyone.
But someone knows her secret. And then one day the threats begin.
With an ever-growing pile of evidence pointing to her as the murderer, the only way she can protect her secrets is to prove her innocence. And that means tracking down a killer.
An unbelievably gripping game of cat and mouse – with a twist you'll never see coming. Fans of Friend Request by Laura Marshall, Close to Home by Cara Hunter, I Let You Go by Clare Mackintosh and The Wife Between Us by Greer Hendricks will love The Guilty Wife.
My Rating: 4/5
⭐️⭐️⭐️⭐️
My Review:
Set in London, the reader comes face-to-face with secrets, betrayal, deception, blackmail, scandal, jealousy, denial, innocence, fear/terror, lack of control, manipulation and justice. It's a whole mixed bag of OMFG's!
I found the book was a little slow to start – I have to admit, I wasn't instantly hooked – but there was something there that kept me interested and like other books that have a psychological element, there was a build-up of suspense that held me hostage – I knew I just had to keep reading!  We get various points of view throughout the novel and once I got past the first 20 pages or so- the pace picked up and it became somewhat of a page-turner! A string of lies unravel and the question of guilt or innocence hangs over the reader like a cloud. This was a clever storyline with interesting characters and I was furiously changing my notes trying to decipher the clues and solve the crime before all was revealed….I nearly did it!
Bethany is a strange one – having an affair but still loves her husband, until one day her life changes and she is faced with fear as someone starts terrorising her. She initially came across as somewhat naive and almost overly eager to please everyone. I also found her to be a little delusional at times for, as clever as she was, she never seemed to see the big picture. #PoorPoorBethany
Alex is Bethany's BFF, a divorce lawyer who is fun but also very level-headed. She gets pulled into the situation that Bethany has created and this shows us the protective and clever side of Alex.
Jason is Bethany's husband. What a drip! I found him to be quite wishy-washy ha ha ha! I didn't really connect with him as I found he was probably the only character we didn't really get to know – we knew stuff, but it was just the surface, so I personally didn't invest in him at all.
This was one intriguing and compelling read and despite my initial reservations, I am so glad I persisted because I was just never sure what was going to be revealed! And the twists…well JAYSUS….like I said earlier, I was doing my cocky little "I have this all sussed out" dance when BOOM! Well played, Elle Croft…you got me!
Would I recommend this book? Oh yes- you bet your ass I would! The reader is lead along a path of deception with many obstacles to throw you off track – once I got into this book, I ploughed through it with a fierce need to find out exactly where it was going! If you like mystery, suspense and a storyline that will keep you guessing – grab a copy of The Guilty Wife today!