OMFG – I have been DYING to share my thoughts on Matt Wesolowski's HYDRA since the moment I finished this absolutely PHENOMENAL book! My thanks to Anne Cater and Karen Sullivan/Orenda Books for the invite on the blog tour and for an ARC. First, a bit about the author and this book – then prepare for some EEEEK's, OMFG's and BOOM's because this book is SU–BLOODY–PERB!
About The Author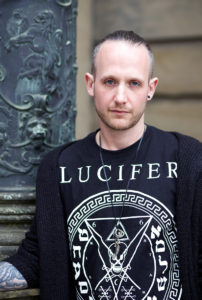 Matt Wesolowski is an author from Newcastle-Upon-Tyne in the UK. He is an English tutor for children in care and leads Cuckoo Young Writers creative writing workshops for young people in association with New Writing North.
Wesolowski started his writing career in horror and his short horror fiction has been published in numerous magazines and US anthologies.
Wesolowski was a winner of the Pitch Perfect competition at 'Bloody Scotland'; Crime Writing Festival 2015 and his short crime story 'Tulpa' was subsequently published in the Northern Crime One' anthology (Moth Publishing 2015). His debut crime novel 'Six Stories' was published through Orenda Books in 2017.
About The Book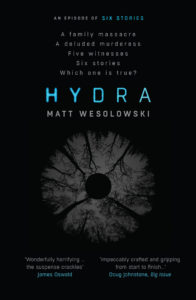 A family massacre
A deluded murderess
Five witnesses
Six Stories
Which one is true?
One cold November night in 2014, in a small town in the northwest of England, 21-year-old Arla Macleod bludgeoned her mother, stepfather and younger sister to death with a hammer, in an unprovoked attack known as the Macleod Massacre. Now incarcerated at a medium-security mental-health institution, Arla will speak to no one but Scott King, an investigative journalist, whose Six Stories podcasts have become an internet sensation.
King finds himself immersed in an increasingly complex case, interviewing five key witnesses and Arla herself, as he questions whether Arla's responsibility for the massacre was as diminished as her legal team made out.
As he unpicks the stories, he finds himself thrust into a world of deadly forbidden 'games', online trolls, and the mysterious black-eyed kids, whose presence seems to extend far beyond the delusions of a murderess…
Dark, chilling and gripping, Hydra is both a classic murder mystery and an up-to-the-minute, startling thriller that shines light in places you may never, ever want to see again.
My Rating: 5/5
⭐️⭐️⭐️⭐️⭐️
My Review
*Warning*: There may be swearing! I have the most horrible foul mouth which goes into overdrive when I am super excited – and by jaysus…I am SOOOOO excited about this book!
Ok- now that I have put my disclaimer in above….

HOLY FRIGGIN SHITSTICKS

what an absolutely clever, captivating and simply superb piece of writing! I cannot believe that I haven't read Matt Wesolowski's debut: Six Stories – but I have it, and it WILL be read!
The story itself is set in Stanwel but comes to us in the form of a podcast – told from, you guessed it – six perspectives and the reader is immersed in a world where mental illness, abuse, anger, survival, isolation, differences, unanswered questions, the past, the truth, rejection, manipulation, influence and (social media) trolls are just some of the themes that play a role in delivering this tale.
Instantly I was drawn into this book despite my initial reluctance. You see, I foolishly  wondered whether or not the podcast format of writing this book was going to hinder or obstruct my reading pleasure -*smacks hand* it didn't… it was just pure genius! I actually loved the concept and I raced through the pages in a matter of hours.
I was fascinated by the story and found myself googling the different urban legends that formed part of this gripping read. Told from both the main character, Scott King's POV as well as Arla McLeod- who is serving time in a secure unit after murdering her family – I think the reader really gets a feel of everything that is happening. I'll tell you what else I absolutely loved- I just couldn't and wouldn't want to place it in any particular box – it is original, creepy, enticing, exciting….OMFG- anything and everything I could ever want. Crime, thriller, psychological, horror, paranormal – BOOM! ?? And I frigging LOVED how it mixed true crime with fiction so I always wondered (and googled) things I had come across because I just–had–to–know.
In terms of characters – more brilliance!! Scott King, is an investigative journalist and is responsible for the podcast #SixStories. He chooses a case, or as he says "we rake over old graves" not necessarily with the end goal of answering any questions, or solving any crimes but more to understand the different perspectives of those – digging a little deeper.
Arla McLeod was just an extraordinary character. I found her story to tug at soooo many emotions. Sentenced at 21 years old to life (in a secure unit) for the brutal murder of her parents and sister, there were just so many questions as to the motive behind this horrific crime. Was it psychosis? mental illness? a response to her parents and sisters ignoring her disclosure…did she confuse reality? So many questions and despite what she did – as there is no real doubt of her guilt, I think the reader can really empathise with her story. Could the murder have been avoided?
OMFG- the Black-Eyed Children!! WTAF! (*yes I googled!!) Just reading the explanation of these sent spine-tingling shivers up and down my spine. JAYSUS! (But secretly….I REALLY want to see them! #Weirdo). I am not going to go into any detail as I think it is all part of the chilling charm to come across in the book. And I am not ashamed to say, I am so curious about the elevators (lifts) – the weirdo in me wants to learn more…. and what?!? ??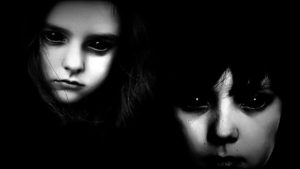 I had figured some things out, but then was knocked for six when the actual twist/revelation was made known. You have no idea how much I just want to keep writing and talking about this book. It was like The Ring meets The Village of the Damned meets whatever other creepy, chilling legend, myth, horror story or movie that pops into your head. #AllTheOMFG's – some crazy sh*t indeed! Am I even making any sense?
Soooo, would I recommend this book? Damn..damn…damn…I most certainly would! Addictive, haunting, chilling, eery, compelling – one of those books that just crawls under your skin and as much as you want to stop when you hear a bump in the night…you just HAVE to keep reading! BOOM!!! ? Buy this book, read it and experience the absolute magnificence of HYDRA (Six Stories) – I hope we won't have to wait too long for the next one! #NoPressure (ooooh so much pressure! HA)
If you are not already following the tour, here is the poster to help you!