WHOOP! WHOOP! I am SUPER excited to be hosting todays stop of the fabulous Steph Broadribb's DEEP BLUE TROUBLE! A massive *thank you* to Karen Sullivan/Orenda Books and Anne Cater for the invite and ARC! Let's find out a bit more about the author and this FABULOUS book!
ABOUT THE AUTHOR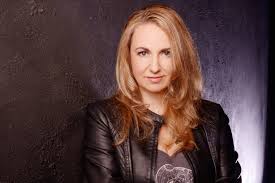 Steph Broadribb was born in Birmingham and grew up in Buckinghamshire. Most of her working life has been spent between the UK and USA. As her alter ego – Crime Thriller Girl – she indulges her love of all things crime fiction by blogging at www.crimethrillergirl.com
Steph is an alumni of the MA in Creative Writing (Crime Fiction) at City University London, and she trained as a bounty hunter in California. She lives in Buckinghamshire surrounded by horses, cows and chickens.
ABOUT THE BOOK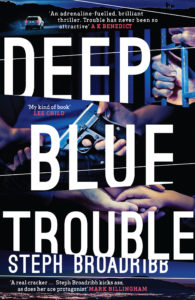 Single-mother Florida bounty hunter Lori Anderson's got an ocean of trouble on her hands. Her daughter Dakota is safe, but her cancer is threatening a comeback, and Lori needs JT – Dakota's daddy and the man who taught Lori everything – alive and kicking. Problem is, he's behind bars, and heading for death row. Desperate to save him, Lori does a deal, taking on off-the-books job from shady FBI agent Alex Monroe. Bring back on-the-run felon, Gibson 'The Fish' Fletcher, and JT walks free. Following Fletcher from Florida to California, Lori teams up with local bounty hunter Dez McGregor and his team. But Dez works very differently to Lori, and the tension between them threatens to put the whole job in danger. With Monroe pressuring Lori for results, the clock ticking on JT's life, and nothing about the Fletcher case adding up, Lori's hitting walls at every turn. But this is one job she's got to get right, or she'll lose everything… Breathlessly paced, and bursting with high-voltage action and edge-of-your-seat jeopardy, Deep Blue Trouble is the unmissable next instalment featuring one of the most memorable and fearless female characters in crime fiction.
My Rating: 5/5
⭐️⭐️⭐️⭐️⭐️
My Review:
* warning: there may be swearing … * ?
It's no secret that I absolutely LOVED the first book in the Lori Anderson series – Deep Down Dead – you can read my full review here, so when I was asked if I wanted to read an ARC of Deep Blue Trouble…there was absolutely NO hestiation on my part. It was an easy you bet your sweet ass, I do!!
The setting of this novel flits between Florida, California and Mexico and the reader faces regret, change, relationships, survival, righting wrongs, revenge, trust, manipulation, betrayal, choices, consequences, guilt, corruption and the ever important need for justice!
Steph Broadribb knows EXACTLY how to capture her readers interest from page one – the #killerhook had me well and truly committed to reading this book cover to cover. No excuses. Nothing was going to stop me.
The story is delivered from Lori's point of view in the main – though we do get a bit of the delicious JT's POV too!  I absolutely loved the narrative and dialect used to bring an authenticity to Lori and the rest of the characters in this novel. I could almost hear the accents and voices of each character I came across! This was a fast-paced read that once again had a bit of an emotive pull amongst the edgy, gritty and compelling plot. Already, I am aching for the next book!
So Lori Anderson is back, and trouble is not far behind her! Kicking-ass – though this time she is flying solo while ? JT ? is in prison and Dakota is safe at camp! I love Lori's sassy, tenacious attitude (with a dash of vulnerability) as she uses her wits, courage, determination and strength to ensure that JT is around to be there for his daughter.
JT – oh my gawd…so yummy! He is not having an easy time in prison but remains stoic, loyal and protective of Lori and Dakota. This guy does not take kindly to threats against those he loves and although I would have liked to see more of him, I was thrilled with what we did find out.
Monroe is a crafty son-of-a-bitch, and I was livid at what we learn – don't worry, we know he's shady from the blurb, so no spoilers here! ??? I also need to mention Red and McGregor as I thought both these characters were so well written and the parts they played really added another dimension to moving the story along.
This series has fast become a firm favourite of mine. I love the raw realism, action-packed storylines and total in-your-face brass that only Lori Anderson can pull off! Do I recommend this read? Are you serious? Don't make me open a can of whoop-ass on you – it's a firm HELL YEAH from me! Grab a copy of the first book too, you won't regret it and make sure to follow the tour and see what all these awesome bloggers think too! ??