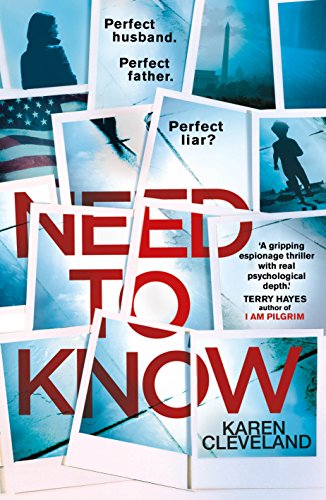 SYNOPSIS:
Vivian Miller is a CIA analyst assigned to uncover Russian sleeper cells in the USA. After accessing the computer of a potential Russian spy, she stumbles on a secret dossier of deep-cover agents living in her own country.
Five photos of seemingly normal people living in plain sight.
She's about to make the breakthrough of her career until she opens the third photograph and sees a face staring back at her that she never expected to see . . .
In an instant, everything that matters to Vivian is threatened – her job, her husband, even her four children.
Vivian has vowed to defend her country against all enemies, foreign and domestic. But now she's facing impossible choices. Torn between loyalty and betrayal, allegiance and treason, love and suspicion, who can she trust?
My thanks to Transworld for an ARC of this book!
My Rating: 5/5
⭐️⭐️⭐️⭐️⭐️
My Review:
Set in Washington DC, (US) the reader is met with secrets, lies, betrayal, relationships, trust (or lack thereof), manipulation, loyalty, fear, anger, search for the truth …how far would you go?
What a great opening! It had that all important #killerhook and that was it…I read this book in one sitting because ..well…I seriously just NEEDED to know! Although this book has been labelled as a spy thriller, it actually read more as a crime thriller with spy thriller undertones…if you get what I mean. That is no criticism, I love either genre/sub genre, so it was a total win/win for me!
Imagine finding out that everything you believed to be true in the last ten years, turns out not to be….The plot was cleverly written and delivered some cracking #BOOMS and #TWISTS along the way! The book jumps between the past and the present as pieces of a puzzle are put together and the story unfolds. There was just so much intrigue, suspense and absolutely cracking OMG moments – I was glued to the pages.
Characters are totally my bag- and this book had some really well-developed characters, in my opinion. Vivian tells us this story- she is a CIA Counterintelligence Analyst (WOW!) and has a bombshell dropped right at the start. I really felt for her for as strong as she was, her loyalty was her downfall and often made her a little gullible but also quite relatable. You want to trust those you love, so you can't really blame her for her actions, but ….I just wish she used those clever brains a little bit more!
Now Matt– right from the start I just didn't not know what I thought of him. I really have soooooo much to say about him, but I just can't as I am afraid there may be swearing or massive spoilers….so I will leave you to find out for yourself when you pick up this book!
In fact, there are quite a few characters that I want to mention, but really can't as anything I say may give things away. This is just one of those books where you need to read for yourself and make up your own mind. Personally, I thought each character had a purpose and drove the storyline along perfectly!
What I also loved about this book is that just when I felt I knew what is happening – BOOM! Each page made me question everything. I had eventually worked out something significant but it wasn't until it was confirmed that I actually believed it…do you know what I mean? I was thinking "OMG could it be…." "Noooo…*shakes head*…couldn't be" and then "Holy crap!!" – so yeah….a little bit mind-blowing!
Do I recommend this book? Oh you bet your sweet 'ol arse I do! A massive HELL YEAH from me. If you are looking for something that will have you questioning EVERYTHING that that is THIS book! A real page-turner, grab your copy of NEED TO KNOW  25/01/18. Karen Cleveland is definitely on my radar now – can't wait to see what is next from this author!