Woohoo! I am over the moon to be sharing my review of Tony Kent's KILLER INTENT today. A big shout out and *THANK YOU* for the ARC to the fabulous Angela McMahon who always knows EXACTLY what books are going to blow my mind and blow my mind it did!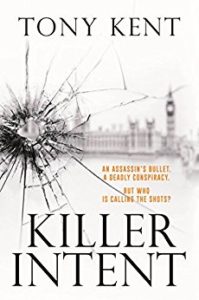 An assassin's bullet. A deadly conspiracy. But who is calling the shots?
When an attempted assassination sparks a chain reaction of explosive events across London, Britain's elite security forces seem powerless to stop the chaos threatening to overwhelm the government.
As the dark and deadly conspiracy unfolds, three strangers find their fates entwined: Joe Dempsey, a deadly military intelligence officer; Sarah Truman, a CNN reporter determined to get her headline; and Michael Devlin, a Belfast-born criminal barrister with a secret past.
As the circle of those they can trust grows ever smaller, Dempsey, Devlin and Truman are forced to work in the shadows, caught in a life-or-death race against the clock, before the terrible plot can consume them all.
My Rating: 5/5
⭐️⭐️⭐️⭐️⭐️
My Review:
The main action of this AWESOME story is set in London and Belfast and the reader is faced with corruption, politics, greed, power, control, assassination, betrayal, gangland overtones, loyalty, family, the past, lies/secrets, love and the search for the truth.
This debut novel is perfectly paced right from the start! The level of intensity had me holding my breath as I raced through the chapters trying to piece together everything that was happening! Each chapter was well written, with a tight narrative and considering the complexity of the story, I didn't feel lost at all. OMFG the action scenes were delivered with no mercy and I felt like I was right there in the thick of it all – dodging bullets, ducking from blows …absolutely FANTASTIC!
Character-wise, there were many individuals that captured my interest, but I will just talk about the few who really got under my skin and stayed with me. Joe Dempsey is an impressive, deadly, intelligent guy who is not going to be giving up anytime soon. Once the path is laid out, this is the type of guy you want on your side as he will follow it to the bitter end.
Sarah Truman is a woman who will not be left on the sidelines. A CNN reporter, she is on the hunt for the truth, unravelling a complex web of lies with a relentless determination to expose the truth. I instantly loved her character – fiery, a great sense of humour and a reckless attitude that could and does find her in some difficult situations!
I thought Joshua was a great character too! A scapegoat but utterly out of control – he will do whatever it takes to protect those he loves!
But I have to say, it was Michael Devlin who definitely stole the show for me! All is not what it seems with this guy! With a steely determination, Michael shows no fear in falling back into his past and using his "skills" to protect those he loves as he hunts for those responsible for the conspiracy before them.
Wow! Wow! WOW! This book has EVERYTHING thrown in without being a chaotic mess! The plot was tight, the narative compelling and I just could not put this badboy down! Added to that, there were so many BOOMS that had me absolutely reeling with excitement – there are just NO WORDS to describe how brilliant this book is!
Would I recommend this book? Oh my giddy aunt – you bet your sweet arse I would! This book sets some high standards now for what will be next for Tony Kent and I, for one, will be waiting with baited breath to read whatever that may be! A #TopReadof2018 – what a superb story by an author who is well and truly now on my radar!