First review up on the blog for 2018 and it's a cracking wee read! I love Daniel Pembrey's Henk van der Pol series and so when I was offered an ARC for a short story that takes us back to the beginning – you bet your sweet arse I jumped at the chance! My thanks to the author for the ARC. If your interested in my thoughts on the first two books in the series, you can find them here: The Harbour Master and Night Market .  Here are my thoughts on Initiation: Amsterdam, '83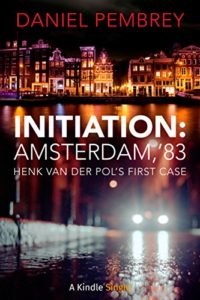 Synopsis:
In autumn 1983, Henk van der Pol is twenty-three years old and just one week out of police training. His dream is to be admitted to the elite detective bureau of Amsterdam's police force, but he knows he needs to prove himself as a uniformed officer first.
That is, until he is sent to interview witnesses of an audacious kidnapping in the city centre: Alfred Heineken, head of the brewery corporation, has been snatched by shadowy assailants and driven at speed from the scene. Is this really just about a ransom or is there any truth to the rumour that West German terrorists are involved? The case is far beyond van der Pol's rank but his instincts tell him to do everything in his modest power to solve it—even if it means putting his own life at risk.
From the bestselling author of The Harbour Master, Initiation introduces Daniel Pembrey's beloved detective as a green young officer at the very start of his career, determined to outwit criminals and his superiors alike, in a first case that could well have been his last.
My Rating: 5/5
⭐️⭐️⭐️⭐️⭐️
My Review:
I loved returning to Amsterdam and meeting the younger, less experienced but ever-so-determined Henk van der Pol. The time is 1983 and the reader is introduced to kidnapping, corruption, politics, beginnings, friendships, love, secrets and a search for the truth.
This complex and riveting plot will keep the reader turning the pages as we meet Henk as a young police officer sticking his nose in a case that could end his career before it even starts! I adore the author's ability to draw the reader in through rich, detailed descriptions – I was right there, in Amsterdam listening, feeling and watching the story unfold! The narrative places the author in the league of greats in my opinion – simply divine! I just want to shout out about this short story sooo much!
Character-wise…well, I think you can guess what I am going to say….Bloody brilliant! Henk van der Pol may be 23 years old and wet behind the years, but his character is pretty much the same as you find him later in life. Of course he has a few lessons to learn, and his nose for trouble leads him to some unsavoury situations – but this is what he thrives on. I think the author did a great job in taking the reader back to where it all began and I loved seeing him meet Petra, Frank Hals and Erik Luhrs for the first time. The relationships between these characters were well written and fascinating. I don't want to say anymore as I think I may spoil something if I do!
This is a great introduction to the Henk van der Pol series but can be read either as a prequel or following the two novels already out! Action-packed, atmospheric and completing engrossing, readers will really enjoy this short story! I highly recommend reading this WHOLE series though -it is great to delve into a police procedural in such an interesting setting! I can't wait for the next in the series now!
#NoPressureMrPembrey ???