I am thrilled to be hosting todays stop on Robert Enright's blog tour for the relaunch of Doorways! My thanks to the author for an ARC. First up, a little about the author and this book!
About The Author
Robert Enright was born and raised in North London and resides in Chesham, Buckinghamshire. Working as a HR System Manager by day, he spends his evenings and weekends writing (or binge watching TV with his fiance).
Robert first self published One by One in March 2016 and saw it published by Britain's Next Best Seller in October 2017.
In early 2018, DOORWAYS will be re-released as an ebook, paperback and audio book under Robert Enright's management. The sequel, THE ABSENT MAN will also be released in early 2018. The third in the series, WORLDS APART, is set for a late 2018 launch. A prequel, titled BERMUDA, is in the works for a 2018 launch also.
For more information about Rob and his upcoming books, then feel free to check him out on social media:
About The Book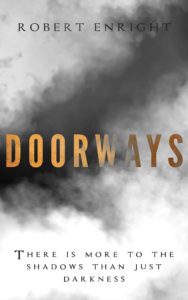 When will you discover The Otherside?
There is more to the shadows than just darkness
The Otherside is located at the fringes of our world, hiding in plain sight and existing within our shadows. Shielded from humanity, the Otherside is watched over by the BTCO, a highly secret government agency, whose members all possess 'The Knack', a genetic anomaly that allows them to see this other world.
Franklyn 'Bermuda' Jones is the BTCO's finest agent, the only human to have passed to the Otherside and returned. Gifted with the ability to physically interact with both worlds, Bermuda reluctantly stands between both worlds, pining for the life he had to leave behind and the daughter he can no longer see. Teamed with Argyle, an enigmatic Otherside warrior, Bermuda is assigned the case of a missing woman who has vanished under mysterious circumstances.
As Bermuda delves further into the disappearance, he uncovers a threat that could destroy the truce between two worlds…and finds himself in a race against time to safeguard humanity's very existence.
Discover a new world in this fast-paced urban fantasy packed with thrills, action and the odd one liner.
My Rating: 4/5
⭐️⭐️⭐️⭐️
My Review:
Set in London, the reader is faced with loss, fear, the unexpected, sadness, love, betrayal, the pursuit of happiness, a hunter vs the hunted feel, good vs evil, loneliness and a journey to save the world. PHEW!
Although Urban Fantasy is not my usual genre, I do dabble in other genres now and then if a blurb captures my interest! What I LOVED about this book was that it mixed that fantasy element with crime fiction, so I ended up not being too far outside of my comfort zone at all! Woohoo! I found this novel to be relatively fast-paced and Go! Go! Go! from the start. I was immediately intrigued and loved the concept of "Two Worlds, One Peace". Told from the third person POV, you get a feel of where everyone is at in terms of dealing with the Otherworld. I was so engrossed in the storyline, I easily read this book in two sittings.
There are definitely some interesting characters in this novel, and I'll just mention a few that stood out for me so as not to ruin it for any of you that choose to pick up this book and read it! Let's start with Franklyn Jones aka Bermuda – a human who has "the knack" which allows him to see the Otherside. Working for BTCO (Behind The Curtain Organisation) he works on cases with Argyle (who is from the Otherside!). Like all protagonists, Bermuda has his own demons to contend with and sacrifices his own happiness…but at what cost? Deemed insane, due to his abilities, Bermuda's determination, vulnerability, sense of justice are what keep him in the game. Such a great character!
Argyle…well I simply adored him…I want an Argyle in my life! He is a warrior from the Otherside and is partnered with Bermuda on the cases from the BTCO. You get the impression that he wants to be seen, to be a part of this world (he is invisible to humans so you can only imagine how crazy Bermuda must look talking to Argyle!) You also get the impression that he doesn't understand a lot of what he witnesses in humankind – there is a sadness about him but this does not stop him from his main aim of keeping Bermuda safe!
Barnaby and the "Others" are creatures who come into our world, need us, take us…but for what ends. Soulless, dark, awful looking creatures that hunt but the fact that we can't see them…make it even more scary! I don't want to say much more, you need to discover the "Others" for yourself!
So would I recommend this book? Hell yeah! I thoroughly enjoyed the story, the characters and moving outside of my comfort zone. This is a book full of the unexpected, where the lines of reality are blurred but pull you in and keep you turning the pages. If you're looking for an escape – this could be the book for you! I am looking forward to reading what is next in store for Bermuda!