Happy Publication Day

to Sarah Vaughan for Anatomy of A Scandal ? Today my fabulous guest reviewer, Claire Knight, shares her thoughts on this novel! I've been avoiding reviews as I have it on my January TBR & my own review to post soon, but have seen a lot of good things on social media so my hopes are high! Grab a cuppa and have a read of Claire's review below!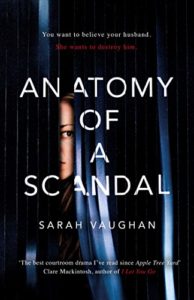 Synopsis
A high-profile marriage thrust into the spotlight. A wife, determined to keep her family safe, must face a prosecutor who believes justice has been a long time coming. A scandal that will rock Westminster. And the women caught at the heart of it.
Anatomy of a Scandal centres on a high-profile marriage that begins to unravel when the husband is accused of a terrible crime. Sophie is sure her husband, James, is innocent and desperately hopes to protect her precious family from the lies which might ruin them. Kate is the barrister who will prosecute the case – she is equally certain that James is guilty and determined he will pay for his crimes.
Claire's Rating: 4.5 ⭐️'s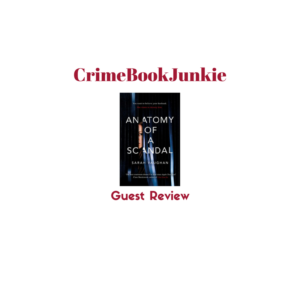 Claire's Review:
Anatomy of a Scandal is very different from the last novel I read by Sarah Vaughan – The Art of Baking Blind, a tale set around a baking competition. Anatomy of a Scandal set between the law courts and Cambridge. Possibly the only thing in the story telling was the jumping between chapters of time; other than that, I found this to be a much more serious offering from Ms Vaughan. This is no criticism of either book. Anatomy of a Scandal deals with more serious subject matter, of a horrific crime within the heart of Westminster. The characters portrayed have been written perfectly. The accused, someone you will not like, the prosecutor I was rooting for as her intentions were honourable – for justice – despite being on a losing streak. As the story unfolds, nothing is quite as it seems and the past comes to confront the present.
The writing style of Ms Vaughan is very addictive. I was clicking through the pages on my kindle as fast as my eyes would let me. I wanted to devour this courtroom drama. Would justice prevail? I love a dramatic read and Anatomy of a Scandal is definitely that! I was swept up in the proceedings in the court. I was there with Holly, the new nervous student at university desperate to make friends and finding her own two feet in the world.
Many thanks to Simon and Schuster UK Fiction and Netgalley for my ecopy of Anatomy of a Scandal.
Thanks, Claire! If you've enjoyed Claire's review and your curiosity has you wanting to click…head over to amazon and grab a copy today!