Whoop! Whoop! Huge thanks to the AMAZING Sarah Hardy of Bloodhound Books for asking me to take part in a cover reveal for JA Marley's Standstill today!  As always, I'll give you a little background on the author and the book before the big reveal!
About the Author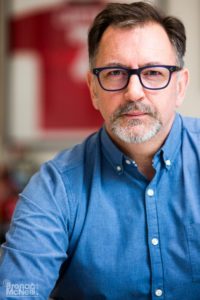 John A. Marley's writing career started with a poem about two brothers who both liked sausages…their names were Butch and Dutch and his Primary School teacher Mr. Murray liked it so much it made the main noticeboard at the entrance to Holy Child Primary School in West Belfast. A little older but none the wiser, he ended up as a film journalist in his native Northern Ireland, contributing to local newspapers, BBC Radio Ulster and latterly writing as the main film critic for the glossy magazine, Northern Woman.
John's love of good stories came from the Irish predilection for telling a good yarn and the fact that there was nothing quite like sneaking away his Dad's battered paperbacks to read even though he knew they were meant for adults and not kids. And so pulp fiction such as The Edge Westerns by George G. Gilman, the adventure novels of Alistair MacLean and the thrillers of Jack Higgins all served to whet his appetite for a good story told at pace.
These days, his reading tastes still focus on thrills, spills and good plot and he can't walk by a James Lee Burke or an Elmore Leonard without pausing to read a few pages…even if it is in a busy bookshop.
John A. Marley is also a TV producer with a proven track record in creating and producing distinctive, original entertainment and factual programming and formats for both a UK and international audience. His eclectic portfolio of high-profile shows include Britain's Ultimate Pilots: Inside the RAF, Britain's Flying Past, Staraoke, Best of Friends, Skatoony, Noel's House Party, Through the Keyhole, SMTV:Live/CD:UK, How Euro Are You? and live coverage of "The Oscars" with Barry Norman.
John runs his own production company Archie Productions which he launched in 2008. Prior to setting up his own indie, John enjoyed a wide and varied career in television with creative roles at Talent Television, Planet 24, Carlton Television and Walt Disney UK. John's broadcast media career started in his native Northern Ireland as a radio host.
About the Book
Even the deadliest criminals leave a trail…
When a psychotic policeman drags the young, ambitious thief, Danny Felix out of bed, he could not imagine he was about to be plunged into the robbery of a lifetime.
Corruption and coercion follow the corrupt Detective Inspector Harkness everywhere he goes and now he has Danny just where he wants him.
But Harkness isn't the only officer with Danny in his sights. Christine Chance is getting closer to him while doing her best to be a mother to her seriously ill daughter.
Can Danny escape Harkness with his life intact? Can he avoid detection by Chance?
And does he have what it takes to use the streets of modern day London to pull off the theft of the 21st Century?
Danny thinks he can…but there will be bloodshed.
Ooooooooooh! Sounds good, right? So how about we have a looky at the cover now? 
Ok! Ok! Here you go, peeps…I give you, Standstill …