Woohoo! On Wednesday, I packed my bags and headed somewhere I always wanted to go…EDINBURGH! I ❤️ Scotland, so I was super excited when two…yes TWO book events were happening over two nights, giving me a fantastic excuse to head up to Scotland and spend time with like-minded #bookfolk!

Wednesday Nov 29th saw me wrapping up warm and making my way to Blackwell's of Edinburgh for Let's Get Criminal, a fantastic mix of crime writers moderated by the ever so awesome Jacky Collins! For those of you who don't know Jacky, firstly why the hell not!? Secondly, make sure you do as she is Dr. Noir and has the most enthusiasm and knowledge about #AllThingsCrime! You can't help but join in the #criminal vibe with Jacky around! Whoop! Whoop! So back to the event now. On the panel there was:
Allan Guthrie – 

Born in Orkney in 1965, Allan taught himself how to program computers and spent twelve years working in IT. It was good while it lasted, but he started to feel the pinch and found a part-time job in a bookshop, where he was so happy he would have worked for free. For a while, at least!
Before long, he was employed full-time in the book trade, and over the nine years that followed he worked in various jobs, from stockroom supervisor to IT trainer, moving between exotic locales such as Brussels, Cork and Stirling, before giving up his day job in 2006 to work as a writer, editor and literary agent.
He married in 2000 and it was his wife, Donna, who was instrumental in encouraging him to take his writing seriously. After being short-listed for the CWA Debut Dagger for a book called Blithe Psychopaths in 2001 (renamed Two-way Split for later release), Allan started to think his wife might have a point. Three years and hundreds of rejection slips later, he wasn't so sure!
Eventually Two-way Split and Kiss Her Goodbye were picked up (within weeks of one another, oddly enough) by two independent presses in the United States. In 2006 Kiss Her Goodbye was nominated for an MWA Edgar Award, an Anthony Award and a Mystery Ink Gumshoe Award. Two-Way Split went on to win the Theakston's Crime Novel of the Year in 2007.
Since then Allan published another three novels, most recently, Slammer, which describes the descent into hell of a young prison officer. He has also published three novellas, including Bye Bye Baby, a police thriller, initially published as an ebook original, and going on to become a Kindle top ten bestseller.
In November 2011 Allan co-founded Blasted Heath, a digital-only publisher, launching with original novels by Anthony Neil Smith, Ray Banks, Douglas Lindsay, Brian Pendreigh and Gary Carson.
Graham Smith –

Graham Smith is the international bestselling author of two explosive crime thrillers in the Jake Boulder series, Watching the Bodies and The Kindred Killers. Watching the Bodies spent over two weeks at number one in the Amazon UK chart and Amazon CA charts. Graham is also the author of the popular DI Harry Evans series and has collections of short stories and novellas.
He is the proud father of a young son. And as a time served joiner he has built bridges, houses, dug drains and slated roofs to make ends meet. Since 2000 he has been manager of a busy hotel and wedding venue near Gretna Green, Scotland.
An avid fan of crime fiction since being given one of Enid Blyton's Famous Five books at the age of eight, he has also been a regular reviewer for the well respected review site Crimesquad.com since 2010.
As well as reviewing for Crimesquad.com Graham has also interviewed such stellar names as David Baldacci, Jeffrey Deaver, Dennis Lehane, Lee Child, Matt Hilton, Peter James, Mark Billingham and many others.
When not working, his time is spent reading, writing and playing games with his son. He enjoys socialising and spending time with friends and family.
Jackie Baldwin- 

Jackie Baldwin was born in Dumfries. She studied law at Edinburgh University returning to Dumfries to practice criminal and family law for the next twenty years. During that time she married and had two children and a variety of pets. She later retrained as a hypnotherapist. Dead Man's Prayer is her debut crime novel and is set in Dumfries. When not working or writing, Jackie can generally be found in a forest or by the beach on long muddy walks with her two Retrievers.

Jacky Collins (LOVE her!!) was at the reigns, leading the conversation about plotting the perfect murder. Each panel member shared their thoughts on crime writing, their personal experiences in the publishing industry and answered questions from the eager audience! I would urge any crime fiction fanatic to keep their eyes open for events like these as not only are they informative, they are thoroughly entertaining! What could be better than spending the time with like-minded folk!? And crime-book-lovers….I URGE you to go out and grab a copy of these authors books! You won't regret it!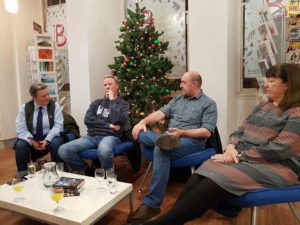 I also had the pleasure of finally meeting a Facebook friend and huge supporter of crime writers: Livia Sbarbaro. The bubbly and enthusiatic, Kelly Lacey of Love Books Group Blog was also in attendance and it was amazing to see them both!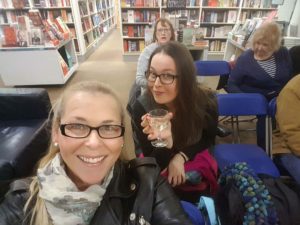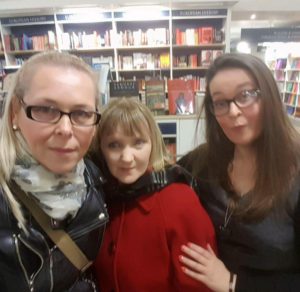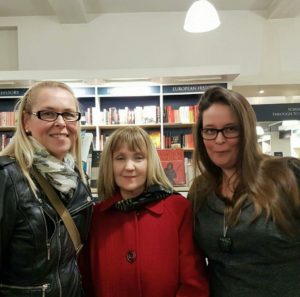 Needless to say, a fantastic event I thoroughly enjoyed! I was a good girl and made my way back to the hotel for an early night as I would be meeting the amazing Kierney Scott the next morning, meeting up with my #Twinnie ( Chapter In My Life ) that afternoon and spending the evening at one of my favourite type crime events…..Noir At The Bar that evening!  Join me tomorrow when I tell you all about that! It was bloody amazing! Catch you later, peeps…