Whoop! Whoop! Whoop! Yes….three Whoops as I am SUPER excited to be taking part in the fabulous CJ Carver's Know Me Now blog tour! HUGE fan of the Dan Forrester series…HUGE!! ?? My thanks to the awesome Emily Burns and Bonnier Zaffre/ Netgalley for an ARC. Right, I'll first tell you a bit about the author and this book before I shout out from the rooftops in my review!
About the Author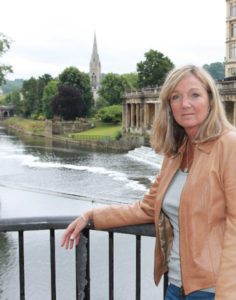 C.J. Carver's first novel Blood Junction won the CWA Debut Dagger and was selected by Publishers Weekly as one of the best mystery books of the year. Half-English, half New Zealand, C.J. has been a travel writer and long-distance rally driver, driving London to Saigon and London to Cape Town. Her novels have been published in the UK and the USA and translated into several languages.
About the Book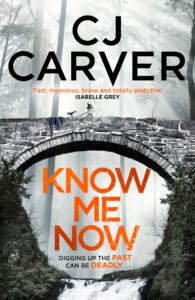 A gripping suspense thriller for fans of Angela Marsons, MJ Arlidge and Peter May, from CWA Debut Dagger winner CJ Carver
A SUICIDE. A MURDER. A CONSPIRACY.
DIGGING UP THE PAST CAN BE DEADLY . . .
A thirteen-year-old boy commits suicide.
A sixty-five-year old man dies of a heart attack.
Dan Forrester, ex-MI5 officer, is connected to them both.
And when he discovers that his godson and his father have been murdered, he teams up with his old friend, DC Lucy Davies, to find answers.
But as the pair investigate, they unravel a dark and violent mystery stretching decades into the past and uncover a terrible secret.
A secret someone will do anything to keep buried . . .
My Rating: 5/5
⭐️⭐️⭐️⭐️⭐️
My Review:
Eeeeeek! To be reunited with Dan Forrester again was most amazing!! This is fast becoming one of my favourite series and I am eagerly awaiting the next instalment…I don't ask for much, do I!?
The story takes place in three settings: London, Scotland and Germany. The reader is faced with suicide, loss; grief; greed; relationships; the past; conspiracies; ethics; secrets; betrayals and friendships.
BOOM! What an opening chapter! CJ Carver really knows how to grab her readers by the throat and she certainly had me gasping for air! The tension and suspense intertwined masterfully in this book and kept me racing through the pages until the very end.  I thought the plot was so clever and scarily believable. I loved the way the reader was led to believe one thing and through the narrative, we learned the truth as it was unravelled before our eyes.
Character-wise, we of course get to reacquaint ourselves with the lovely Dan Forrester! *swoon* – sadly, he has just lost his father and while coming to terms with that, his wife is heavily pregnant and could deliver at any time. Dan's memory has not returned, so he is still dealing with the amnesia that plagued him following the death of his first born and to top it off, he learns that his godson has killed himself….or has he?  It is never easy sailing for poor Dan and he needs to solve a case that will once again leave him questioning everything. I have to say, I think he is a brilliant character. I admire his loyalty, his courage and his relentless desire to find justice for those who need it.
DC Lucy Davies is another one of my faves in this series. I just love her! Lucy has her own things to deal with but this does not prevent her from being her clever feisty self.  What I like about Lucy…and Dan, things that others might view as disadvantages – these two use to their advantage. It makes them fight harder and be more determined to get the right result. For the reader, you fast become a huge champion as you just want this pair to succeed!
I really want to talk about the other characters that I really adore, but then I just want others to pick up this series and find out for themselves how so very awesome they are – so I am not going to mention the others…even though I am dying to! Instead, I will move on and say that the twist was SUPERB – I seriously thought I had it all sussed out and then BOOM! Nicely done, CJ!
Soooooo…do I recommend this book…erm….HELL YEAH – I recommend this series! A definite #TopRead2017 for me – you seriously need to be adding it to your TBR. Easily read as a stand-alone, the action-packed, compelling series is just  so incredibly awesome, I urge you to treat yourself and grab them all.  I cannot wait to see what is next in store for Dan and the gang!