#AllTheEeeeksAndOMFG's!
In case you haven't guessed, I am super excited to exclusively reveal the cover to the first book in Mel Comley's new trilogy!! You'll have to wait though…as first I want to tell you a bit more about this AWESOME author and the book itself! Wooooohooooo!
About the Author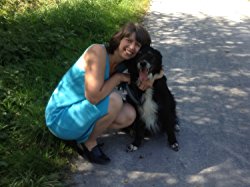 New York Times, USA Today, Amazon Top 20 bestselling author, iBooks top 5 bestselling and #2 bestselling author on Barnes and Noble. Over one and a half million copies sold worldwide. I am a British author who moved to France in 2002, and that's when I turned my hobby into a career.
When I'm not writing crime novels I'm either reading them or going on long walks with my rescue Labrador, Dex.
I hope you enjoy reading my books, especially the Justice series, Cruel Justice, Impeding Justice, Final Justice, Foul Justice, Guaranteed Justice, Ultimate Justice, Virtual Justice, Hostile Justice, Tortured Justice, Rough Justice, Dubious Justice, Calculated Justice, Twisted Justice, Prime Justice, Heroic Justice. There are several novellas and short stories in the series too.
My other successful series are: The DI Sally Parker thriller series, which includes WRONG PLACE, NO HIDING PLACE, COLD CASE and Deadly ENCOUNTER.
The Hero series, TORN APART, END RESULT, IN PLAIN SIGHT and DOUBLE JEOPARDY (the last two books were published by Bloodhound Books)
I have three books in the Intention series, Sole Intention, Grave Intention and Devious Intention.
I've also written a couple of standalone novels – EVIL IN DISGUISE and FOREVER WATCHING YOU.
As well as co-authoring The Caller with Tara Lyons.
And Clever Deception, Tragic Deception and Sinful Deception co-authored by fellow NY Times bestselling author Linda S Prather.
If you'd like to keep up to date with new releases you can find me on facebook by following this link http://smarturl.it/sps7jh or sign up for my newsletter http://www.hyperurl.co/su1xnt
You can find out more about Mel at the following blog:
About the Book
The first gripping thriller in he DI Kayli Bright trilogy.
"I want my mummy…"
The whisper seems to echo through the rooms of the abandoned house. DI Kayli Bright and her partner, DS Dave Chaplin, aren't strangers to dealing with bad cases, but no one can prepare for the emotional and mental anguish the discovery of a child's remains evokes.
Determined to find the responsible culprit, several of the dead child's family members surface on their radar of suspects…until they learn of another child's abduction.
The investigation leads Kayli to the shocking conclusion that even more children in the area have been abducted. A race against time ensues to find the children before they get lost in a sinister, evil world.
I don't know about you, but I cannot wait to read this! Oh…I guess you want to see the FANTABULOUS cover, right? I am not even going to tease you anymore…the sooner you see it, the sooner you pre order it! Just click the book to pre order ?
Here it is…… THE MISSING CHILDREN