Morning all! Thrilled to share my 'lil star guest reviewer Claire Knight's #TopReads of 2017 today. I've included the book cover for you to click on which will take you directly to her review! There are some cracking reads on this list and I am over the moon that some came from my own recommendations! You'll also find some of them on my later posts of #TopReads….so they must be good, right! ? Enough from me, grab a cuppa as I hand over to Claire!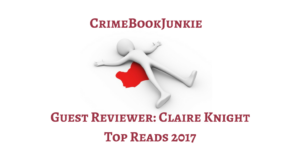 2017 has managed to blow 2016 out of the water bookwise! And I thought 2016 was a brilliant year! If I was only allowed to pick 10 top reads, I really would struggle!!
So I've split my top reads by publisher…..there have been some stonking reads by the big publishers, the smaller outfits and by those who choose to self-publish! I'm not one to care how a book is published….I just want a cracking story….so first up….
Bloodhound Books
This publisher is going from strength to strength and 2017 saw the publication of some fantastical reads. My favourites have been the James Ryker and Jake Boulder series, two of my fictional crushes!!! I can't wait to see what happens to both of them in 2018 – Rob Sinclair and Graham Smith have really captured my imagination! Bloodhound also published a debut novel called Enter the Dark by Chris Thomas. This is a dark crime thriller which is shocking and very inventive! Really looking forward to see what Chris has to offer next!
Orenda Books
Karen Sullivan seems to have a knack of finding books that are a little bit different. I've read a handful of their publications this year, each different from the previous. Matt Wesoloski's Six Stories was amazing, what a debut podcast based crime thriller!!! The unique Louise Beech put out her Maria In The Moon; her writing is not something that can be typecast! And then the translated crime novels of Block 46 by Johana Gustawsson, Wolves In The Dark by Gunnar Staalasen and Kjell Ola Dahl's Faithless. These all shocking and dark in their own special way!
Bookouture
I can't not mention the publications from Bookouture. This digital publisher has some of my favourite authors on their books (no pun intended) and they've signed some cracking authors too! Angela Marsons opened 2017 for me this year with Bloodlines and her writing is going from strength to strength. Another two of my favourite authors, Caroline Mitchell and Robert Bryndza have both written cracking crime thrillers that have stunned and captivated me with the Ruby Preston trilogy and the continuation of the Erika Foster series. Bookouture has also kicked off the crime side of Kierney Scott's career with a banging novel called Forget Me Not (was Now You See Me)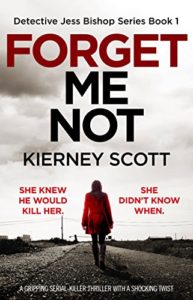 Caffeine Nights
This publisher has definitely got some hidden gems. I discovered them through Noelle's gentle persuasion that I had to read Graham Smith's Harry Evans series. From there, I have now discovered Michael Fowler and Mike Craven both of whom have published dark police procedurals with You're Next and Body Breaker respectively. I've also read the twisted Heart Swarm by Allan Watson which came highly recommended by Noelle and Sharon of Chapter In My Life.
The Self Published
The authors who have the knack to put out a book under their own steam are amazing. I have a few self published novels from the wonderful Mel Comley waiting to be read after she has had two brilliant Hero Nelson novels put out by Bloodhound Books. David Videcette gave us his second Jake Flannagan book The Detriment which was equally as intriguing and real life as its predecessor. Mel Sherratt tried her hand at a psychological thriller with She Did It – a brilliant standalone if you've not read it.
Chasing the Traveller is a great read from Alex Kane – the pen name of the lovely Emma Clapperton; this is a domestic thriller with a difference!
The best of the rest
These are this reads that I've enjoyed but split across many different publishers and I think Noelle might kill me if I did something for every single publisher…this is already an essay, longer than anything I've written before!!!
Cally Taylor successfully turned her hand to the YA genre with The Treatment, a bit of a thriller set around a reform academy! Another of my favourite authors Mark Edwards published his standalone crime thriller The Lucky Ones in the summer – a killer who wants their last day on earth to be their happiest!
I have to thank Joanne Robertson of My Chestnut Reading Tree for nagging…I mean persuading me to read Jane Harper's debut The Dry; I loved it so much I've primed a work colleague to bring Forces of Nature back from his trip to Oz before its out over here!!! Oh and the The Unquiet Dead by Ausma Zehanat Khan. Now this was a harrowing read that highlighted to me some of the atrocities of the Bosnian Serbian War that I was oblivious to as a teenager.
And finally if you fancy a Christmas themed Crime novel, Susi Holliday's The Deaths of December is a cracker of a read! I've not reviewed it yet but it's definitely festive in a twisted kind of way!!
At the time of writing this, I've read 94 books this year so it's been difficult to narrow it down as the 94 have been all so different! Thank you Noelle for letting me share my reviews again this year! Come on then 2018….let see what you've got!!
Wow! Thanks, Claire! A fab list there…I am knackered just putting it all together! I have a lot of these to catch up on and so I am looking forward to not only reading some awesome books in 2018 (I have some fantastic ones waiting!) but also catching up on those that are still waiting to be read!  Happy holidays…but more importantly…Happy Reading, #bookjunkies!