Eeek! Eeeeeeeeek! Eeeeeeeeeeeek! Me right now! ??
Oh my giddy aunt! You have NO IDEA how incredibly excited I am to be revealing MW Craven's  The Puppet Show cover to you all right now! I had the absolute PLEASURE of beta reading this badboy and if I could write a review right now, I would be shouting from the rooftops: ALL THE FRIGGIN STARS as this is one book you NEED to read in 2018! Before I reveal this AWESOME cover though, here's a little about the ever so awesome Mike (MW) Craven and this book!
About the Author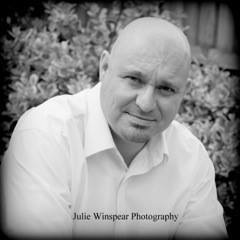 Although he was born in Cumbria, Mike Craven grew up in the North East before running away to join the army as soon as he was sixteen. After training as an armourer for two and a half years (that's an army gunsmith to you and I), he spent the next ten travelling the world having fun. In 1995 he left the army, and after a brief flirtation with close protection and bodyguarding, decided on a degree in social work with specialisms in criminology and substance misuse. In 1999 he joined Cumbria Probation Service as a probation officer, working his way up to chief officer grade. Sixteen years later, he took the plunge and accepted redundancy to concentrate on writing full-time, and now has entirely different motivations for trying to get inside the minds of criminals.
Mike's first DI Avison Fluke novel, Born in a Burial Gown, was shortlisted for the Crime Writers' Association Debut Dagger Award and was published on 11th June 2015 by Caffeine Nights. Also available is his award winning collection of short stories featuring Fluke and his colleagues from the Cumbrian Force Major Incident Team, Assume Nothing, Believe Nobody, Challenge Everything. Body Breaker, the hotly anticipated follow up to Born in a Burial Gown, is out on May 25th.
In March 2017, Mike signed a two book contract with the Little, Brown imprint, Constable, for his new series starring the National Crime Agency's Washington Poe, an expert in serial killers and seemingly motiveless crimes. The first Poe book – as yet untitled – will be published in hardback in spring 2018.
Between leaving the army and securing his first publishing deal, Mike found time to keep a pet crocodile, breed snakes, get married, and buy a springer spaniel named Bracken. He lives in Carlisle with his wife, Joanne, where he tries to leave the house as little as possible. Mike is also one third of Crime Ink-Corporated, a trio of northern writers who take writing out for the community and host events such as England's first Noir at the Bar.
Mike's first DI Avison Fluke novel, Born in a Burial Gown, was shortlisted for the Crime Writers' Association Debut Dagger Award. He is a member of both the Crime Writers' Association and the International Thriller Writers' Association.
About the Book
A serial killer is burning people alive in the Lake District's prehistoric stone circles. He leaves no clues and the police are helpless.
When his name is found carved into the charred remains of the third victim, disgraced detective Washington Poe is brought back from suspension and into an investigation he wants no part of.
Reluctantly partnered with the brilliant, but socially awkward, civilian analyst, Tilly Bradshaw, the mismatched pair uncover a trail that only he is meant to see. The elusive killer has a plan and for some reason Poe is part of it.
As the body count rises, Poe discovers he has far more invested in the case than he could have possibly imagined. And in a shocking finale that will shatter everything he's ever believed about himself, Poe will learn that there are things far worse than being burned alive …
Holy sh*tballs! See what I mean…sounds awesome, right? Well I can assure you 100% that this is one book you will pre order now because it rocks! I seriously cannot wait to share my review ….but how about I stop with all this fangirling and show you the kickass cover!?
OMFG – peeps! Brace yourselves! Here it is….Welcome To…. The Puppet Show…
BOOM! ?? Friggin love it and that tagline!! Get this badboy on your pre order TBR now! I promise, you will not regret it! Have I said that enough now? ?