Woohoo! It's my stop on Leigh Russell's Class Murder blog tour today and to celebrate the publication of the TENTH novel in the DI Geraldine Steel Series, Leigh Russell has written an exclusive list of TOP TENS!  Before I share the list, let's find out more about the author and this book!
About the Author
Leigh Russell has sold over a million crime fiction novels, and writes full time. Published in English and in translation throughout Europe, her Geraldine Steel and Ian Peterson titles have appeared on many bestseller lists, and reached #1 on kindle. Leigh's work has been nominated for several major awards, including the CWA New Blood Dagger and CWA Dagger in the Library, and her Geraldine Steel and Ian Peterson series are in development for television with major television production company Avalon Television.
Leigh writes the Lucy Hall mystery series published by Thomas and Mercer.
Find out more about Leigh on her website http://www.leighrussell.co.uk where news, reviews and interviews are posted, with a schedule of Leigh's appearances. Contact Leigh via her website, follow her on Twitter and facebook.
About the Book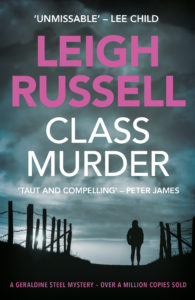 Detective Geraldine Steel is back in Class Murder – her tenth case!
With so many potential victims to choose from, there would be many deaths. He was spoiled for choice, really, but he was determined to take his time and select his targets carefully. Only by controlling his feelings could he maintain his success. He smiled to himself. If he was clever, he would never have to stop. And he was clever. He was very clever. Far too clever to be caught.
When two people are murdered, their only connection lies buried in the past. As police search for the elusive killer, another body is discovered. Pursuing her first investigation in York, and reunited with her former sergeant Ian Peterson, Geraldine Steel struggles to solve the baffling case. How can she expose the killer, and rescue her shattered reputation, when all the witnesses are being murdered?
No Exit Press: http://bit.ly/ClassMurderNoExit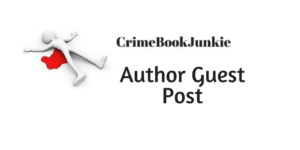 GERALDINE STEEL BOOK 10: CLASS MURDER
TEN THINGS I'VE LEARNED ABOUT WRITING & PUBLISHING SINCE BOOK ONE IN THE GERALDINE STEEL SERIES
Producing a book is a team effort
Writing is the easy part
Readers are loyal
A good editor is essential
The crime writing community is a close one
Other authors are very supportive
It's important to write for readers
It helps to set books in a real place
Writing is addictive
Inspiration is everywhere!
Thanks so much, Leigh! I do love a list! Grab your copy of Class Murder and check out the rest of the blog tour here: