Whoop! Whoop! Today my guest reviewer Claire Knight is hosting Michael Fowler's You're Next blog tour! Before I share her review, let's find out a bit more about the author and this book!
About the Author
Following retirement, after thirty-two years as a police officer, working mainly as a detective, Michael returned to the deadly business of murder, as a writer. His past work brought him very close to some nasty characters, including psychopaths, and gruesome cases, and he draws on that experience to craft his novels: There is nothing gentle about Michael's stories.
His landmark novel Heart of the Demon, published in 2012, introduced Detective Sergeant Hunter Kerr. Michael has since written five novels and a novella featuring Kerr. He also released the first DS Scarlett Macey book in 2016. Michael is also the author of a stand-alone crime novella and a true crime thriller.
Michael has another side to his life – a passion for art, and has found considerable success as an artist, receiving numerous artistic accolades. Currently, his oil paintings can be found in the galleries of Spencer Coleman Fine Arts.
He is a member of the Crime Writers Association and International Thriller Writers.
About the Book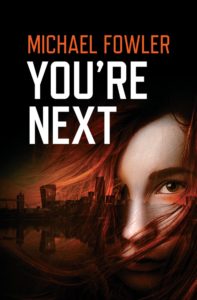 It is the opening day of Detective Sergeant Scarlett Macey's biggest case of her life – 'The Lycra Rapist' is standing trial for a series of brutal rapes.
But things don't go according to plan – the trial collapses – and James Green is freed.
Scarlett is determined his freedom will not last long and immediately begins planning his downfall.
Meanwhile James Green has his own plans for revenge, and driven by feelings of hatred begins to pick out those who brought about his downfall – priming them for the kill.
Scarlett has faced many villains in the past, but never one quite as terrifying as James Green…
Claire's Rating: 5/5
⭐️⭐️⭐️⭐️⭐️
Claire's Review:
Scarlett Macey, what can I say?! I love her!! She's a feisty sergeant, determined to get James Green behind bars. James Green, he's an evil evil man. A well crafted sleazy slimy criminal; he well and truly made my skin crawl the more I read about him. He's got himself off the hook for a series of rapes but Scarlett knows he's guilty and is hell bent on making sure she catches him when he strikes again.
But "You're Next" isn't just about Macey vs Green; as you'd expect in a busy police department, there are other cases to solve. Shocking cases, distressing cases. The cases Scarlett and the team faced felt real and some rang true to real-life crimes that I've seen in the news.
"You're Dead" was my introduction to the world of DS Scarlett Macey. This is the second in the series but I don't think I missed out by jumping straight into Book 2. Saying that I have downloaded "Scream, You Die" to read.
This is a hard hitting police procedural. It's not one for the faint hearted – I personally can take most crime fiction in my stride but Michael Fowler stunned and shocked me with this novel. I felt like I went through the whole experience with Scarlett, I felt heartbreak and even shed a tear when I read it the first time. I've now read "You're Next" twice and believe you me, the second time was no less shocking than the first.
Big thanks to Caffeine Nights and Michael Fowler for my advanced copy of You're Next and to Caroline Vincent of Bits About Books for inviting me on the blog tour. And a huge #YouNeedToReadThisBook thanks to Noelle for letting me host the #Crimebookjunkie stop on the blog tour.
Thanks for your fab review, possum! No need to convince me to add this to my TBR…I am a huge fan of Michael's writing, so it was an easy decision. Do what Claire says, #bookjunkies and Buy This Book!