Woohoo! I am over the moon to be hosting the fantabulous Ragnar Jonasson's Whiteout blog tour today with a super wee guest post and the chance for one lucky person to win an AUDIBLE copy of this book thanks to the amazing Karen Sullivan! How freakin' awesome is that!?!
First though, how about we find out a little about Ragnar (for those few of you ? who may not come across this brilliant series before) and a bit about this superb book!
About The Author
Check out this handsome devil! ?
Ragnar Jonasson (www.ragnarjonasson.com) is the Icelandic writer of the Dark Iceland crime series set in Northern Iceland.
Ragnar was born in Reykjavik, Iceland, and works as a lawyer in Reykjavik. He is also a teacher at Reykjavik University Law School and has previously worked on radio and television, including as a TV news reporter for the Icelandic National Broadcasting Service.
Before embarking on a writing career, Ragnar translated fourteen of Agatha Christie novels into Icelandic.
Ragnar is the co-founder of the Reykjavik international crime writing festival Iceland Noir, and has appeard on panels at Crimefest in Bristol, Left Coast Crime in the USA, Bloody Scotland in Stirling and Iceland Noir in Iceland.
Ragnar's short story Death of a Sunflower was published in Ellery Queen's Mystery Magazine January 2014 issue, the first story in the magazine by an Icelandic author.
His second Ellery Queen Mystery Magazine story, A Letter to Santa, was published in the January 2015 issue.
Ragnar's short story Party of Two was published in the Crime Writers' Association 2014 anthology Guilty Parties, edited by Martin Edwards.
Ragnar lives in Reykjavik with his wife and daughters.
About The Book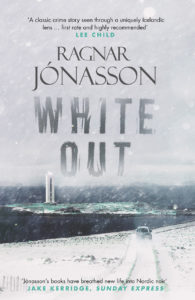 Two days before Christmas, a young woman is found dead beneath the cliffs of the deserted village of Kalfshamarvik.
Did she jump, or did something more sinister take place beneath the lighthouse and the abandoned old house on the remote rocky outcrop?
With winter closing in and the snow falling relentlessly, Ari Thor Arason discovers that the victim's mother and young sister also lost their lives in this same spot, twenty-five years earlier…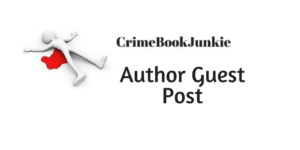 My latest book Whiteout takes place just before Christmas. I don't know why but I have always been fascinated by stories set around Christmas time, especially crime novels. Christmas is a big holiday in Iceland and we have our very Icelandic traditions. On the 23rd of December we cook a very foul smelling fish called Skata and eat it with lots of butter and leafbread (laufabrauð). I'm not exaggerating when I say that everything and everyone stink for a few days after that feast. I however have never really gotten the hang of foul smelling food, so I very politely decline any offer to a Skata party. We celebrate Christmas on the 24th and give each other presents on Christmas Eve. One of the most popular presents to this day is a new Icelandic book and the weeks before Christmas are described as the Christmas Book Flood, as most new novels in Iceland are published during this period. This is the tradition I cherish the most as I love the relaxing element of staying inside during the holidays, nibbling on chocolates and reading a lot of books. So why not have more books set around Christmas time? The perfect setting in my opinion.
Thank you so much, Ragnar! I LOVE this tradition and keeping within the theme of this guest post, I have an audible code for Whiteout to give away to ONE LUCKY READER. Leave a comment below to be entered into this AWESOME giveaway. I will leave it open until DECEMBER 7th – the final day of the blog tour! So share, RT, enter to be in with a chance!