Today my guest reviewer Claire Knight will be sharing her thoughts on Pierre Lemaitre's THREE DAYS AND A LIFE! Over to you, Claire!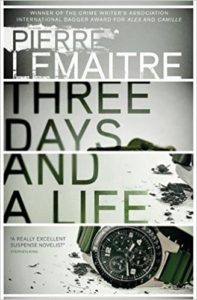 Synopsis
Antoine is twelve years old. His parents are divorced and he lives with his mother in Beauval, a small, backwater town surrounded by forests, where everyone knows everyone's business, and nothing much ever happens. But in the last days of 1999, a series of events unfolds, culminating in the shocking vanishing without trace of a young child. The adults of the town are at a loss to explain the disappearance, but for Antoine, it all begins with the violent death of his neighbour's dog. From that one brutal act, his fate and the fate of his neighbour's six year old son are bound forever.
In the years following Rémi's disappearance, Antoine wrestles with the role his actions played. As a seemingly inescapable net begins to tighten, breaking free from the suffocating environs of Beauval becomes a gnawing obsession. But how far does he have to run, and how long will it take before his past catches up with him again?
Claire's Rating: 4/5
⭐️⭐️⭐️⭐️
Claire's Review
I really enjoyed Pierre Lemaitre's previous thriller, Blood Wedding when I read it last year. So when I saw he had a new novel out, I couldn't wait to read it! Part of me wondered whether Blood Wedding was a one off with its twisted tale so I was intrigued to see what Three Days and A Life had to offer.
I don't want to talk too much about the plot as the whole story hinges on an event at the beginning which isn't covered in the synopsis….
As with Blood Wedding, it's a twisted tale but don't expect anything fast paced. This French standalone is definitely a slow burner packed with intrigue. Antoine, our protagonist, is constantly looking over his shoulder praying he won't be found out. The question that kept my attention was will he?!
I do like this French writer's style of writing; now I really want to read his Verhoeven trilogy which Monsieur LeMaitre won two separate Crime Writers' Association International Daggers for!
Many thanks to Quercus Books, MacLehose Press and Netgalley for my copy of this French thriller!
Thanks for another fab review, Claire! If Claire's review piqued your curiosity, grab a copy of the book here: