First up today on my blog is a guest review from Claire Knight for Abigail Osborne's The Puppet Master! I have to say that I am loving the new cover for this one and have it on my TBR to read!  Right then, let's find out a bit about Abigail and her book before I hand it over to my wee possum, Claire for her review!
About The Author: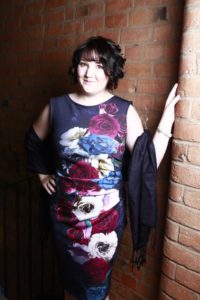 Abigail is originally from the Lake District but moved to the West Midlands for University where she completed an English Literature & History degree and also met her husband. She is a passionate reader and has an unsustainable collection of books. This obsession with books has led to her creating her own Dewey decimal system and she has been known to issue fines to family and friends if her book is not returned on time. 'The Puppet Master' is Abigail's debut novel and has unleashed a passion for writing. When not writing or reading Abigail is usually playing her violin or hiding from her much too energetic cats. She also works as a Needs Assessor for disabled university students in the West Midlands.
Links:
About the Book
Billie is hiding from the world in fear of a man who nearly destroyed her. But a chance meeting with budding journalist, Adam, sparks a relationship that could free her from her life of isolation and fear.
Unbeknown to Billie, Adam knows exactly who Billie is and is determined to expose her and get justice for the lives he believes she has ruined. But first, he needs to convince her to open up to him. As an unwanted attraction blossoms between them, Adam comes to realise that all is not as it seems.
Who is really pulling the strings? And are Adam and Billie both being played?
One thing is for sure, The Master wants his puppets back – and he'll do anything to keep them.
Claire's Rating: 4/5
⭐️⭐️⭐️⭐️
Claire's Review:
The Puppet Master is a chilling story of deception and secrets on all levels. A lifetime of manipulation. A lifelike portrayal of abuse of the worst kind. The reality of grooming in close quarters. The use of fear and coercion and flattery.
At the start I was intrigued why Billie was so frightened, even scared of her own shadow. A grown woman having been to university working in a busy call centre shouldn't be so paranoid and constantly looking over her shoulder. But the more I read as the book jumped back and forth between the present and the past, the more I understood why Billie was like it.
Now then Eric, he's a man who manipulates people. He makes them believe it's for their benefit but really it's for his own means. He uses every trick in the book to get what he wants. The epitome of evil!
This is a cracking debut from Mrs Osborne. The tension she creates in her writing, you could cut through with a knife. I will be interested to see how she follows this thriller up!
Big thanks to Bloodhound Books for my advanced copy of The Puppet Master and to the wonderful Sarah Hardy for asking me to join the blog tour! And as ever a #Busterbear thanks to Noelle for letting me host the #Crimebookjunkie stop on the tour.
Great review, Claire and you're welcome! If Claire's review has you thinking you need to add this to your TBR, you can grab a copy via the link below or head over to amazon and browse for some more!