Today on my blog, guest reviewer Claire Knight is hosting Iain Maitland's Sweet William blog tour! Before we have a read of Claire's awesome review, let's find out a bit more about this book!
About the Book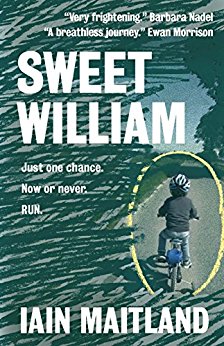 Life and death played out over 48 hours. A father intent on being with his young son escapes from a secure psychiatric hospital, knowing he has just one chance for the two of them to start a new life together. Sweet William is a breathtakingly dark thriller that spans forty-eight hours in the life of a desperate father and a three-year-old child in peril. Brilliant and terrifying, this is a debut novel that will stay with its readers long after they finish turning the pages.
Claire's Rating: 3.5 ⭐️'s
Claire's Review:
This is bit of a different book. I must admit it might not have been a book I'd have clicked on if I'd have seen it on Amazon based on the cover. Saying that, the blurb definitely piqued my interest. How far a father would go to be with his son!
The narrative switches between first person for our main character and then the third person for all the other characters. Frequently where a story has different perspectives, it's all written in the third person. But with Sweet William, it worked well having the father, Rick, written in the first person. It added to his paranoia and as you read more, his unreliability as a narrator.
Despite being set over 48 hours, I didn't find there to be the level of pace I'd expect for something based over such a short period of time. However, this didn't dispel my enjoyment of this book. It's a slow burner packed with tension and suspense.
I got the impression from the author's acknowledgements, this story is based or inspired by real life. I would be interested in knowing more about the inspiration to this book.
Many thanks to Diana Morgan at Ruth Killick Publicity for my copy of Sweet William and for inviting me onto the blog tour. And huge thanks to Noelle for letting me host the #Crimebookjunkie stop on the blog tour.
Thanks, Claire! If Claire's review has made you curious, you can grab a copy of Sweet William below or make your own way over to the amazon site of your choosing! ?