Whoop! Whoop! I am SUPER EXCITED to be hosting the ever so awesome Paul Finch's SHADOWS blog tour today with a fantastic guest post from the author. This is a fantastic series, and if you didn't get a chance to read my review of Strangers– the first in the DC Lucy Clayburn series, you can catch a read of it HERE.
So first things first! Let's find out a bit more about the author and this book!
About The Author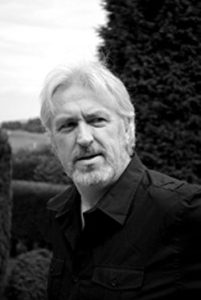 For Paul's blog go to www.paulfinch-author.blogspot.co.uk
Published by www.harpercollins.co.uk
For twitter follow Paul – @paulfinchauthor
PAUL FINCH #1 ebook Bestseller and top 10 Sunday Times Bestseller.
Paul Finch studied History at Goldsmiths, London, before becoming a cop in the north west of England. He then let his passion for writing allow him to follow a career in journalism. Now a full time writer, he first cut his literary teeth penning episodes of the British TV crime drama, THE BILL, and has written extensively in the field of children's animation. However, he is probably best known for his work in thrillers and horrors.
His crime debut novel, STALKERS, was a no 1 ebook best seller in 2013 and introduced DS Mark 'Heck' Heckenburg. This was followed in July 2013 by the sequel, SACRIFICE. He now has THE KILLING CLUB, DEAD MAN WALKING, HUNTED and ASHES TO ASHES in the series which is also published in Germany, Poland, Turkey, Hungary, Japan, Italy and Croatia.
In 2016 Heck took a break to be replaced by DC Lucy Clayburn. The opening novel, STRANGERS, became an immediate success reaching the top ten in the Sunday Times Bestseller list. This has been followed up with the second instalment for Lucy, SHADOWS.
His next Heck novel, KISS OF DEATH is due out in August 2018.
Paul Finch lives in Lancashire, UK, with his wife Cathy and their two four legged companions, Buck and Buddy.
About The Book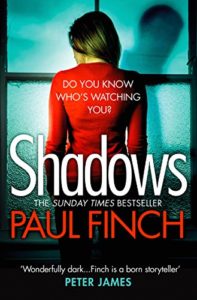 As a female cop walking the mean streets of Manchester, life can be tough for PC Lucy Clayburn. But when one of the North West's toughest gangsters is your father, things can be particularly difficult.
When Lucy's patch is gripped by a spate of murder-robberies, the police are quick to action. Yet when it transpires that the targets are Manchester's criminal underworld, attitudes change.
Lucy is soon faced with one of the toughest cases of her life – and one which will prove once and for all whether blood really is thicker than water…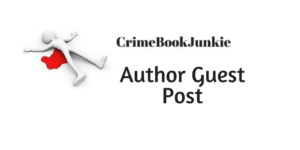 Are You Ever Influenced By Real-Life Crimes?
As a crime writer it can be very difficult not to be influenced by real-life criminality.
It's not that you set out with that in mind, spending each day roving through the annals of true crime in a ghoulish quest for salacious inspiration. I mean, some may do that, but most often it's the case that, because of the field you're working in, you inevitably hear about amazing, blood-curdling incidents, and because you write dark fiction and are in the business of putting chills up the spines of your audience, you end up saying to yourself: 'I must do something along those lines; it's too astonishing a story to simply sit upon'.
Of course, because we write fiction, it's not our job to simply recount, blow for blow, cases that have actually happened in real life. It's not even the case that we can do that and simply change the names. To me, that wouldn't just be unethical and a massive cheat, it also would be betraying your craft. Evolving a coherent narrative, structuring your story so that it both entertains and satisfies the audience, creating and developing new, intriguing characters, and inserting a meaningful subtext are all essential parts of the novel-writing process. And if you were simply to relate real events and dress them up as a tale you'd invented, it wouldn't work because none of those criteria would apply. Real life is not like fiction. Criminals do not always have understandable motives, the good guys are not always completely commendable, the bad guys not always irredeemably villainous, and unlikely coincidences (or 'contrivances', as they'd be disparagingly called in a novel) do happen. But as I said at the beginning, this doesn't mean that we can't be influenced by real events.
That was certainly the case with my policewoman character, Lucy Clayburn, in the two novels I've written about her to date: STRANGERS and SHADOWS.
For the uninitiated, Lucy is a feisty young blue-collar detective, working divisional CID in the Greater Manchester Police. On the whole, she tends to deal with routine crimes, but every so often, mainly when I'm writing books about her, she finds herself drawn into major enquiries.
In STRANGERS, for example, she goes undercover as a prostitute to try and snare a serial killer. Now, I should add straight away that this is not the familiar story of a sex maniac hunting for street-women.
The horrific killing of female sex workers by a relentless male predator is a ghastly event that occurs all too frequently in our world, the most obvious one, though not the first, being Jack the Ripper, who carried out at least five such slayings in the East End of London in 1888. The original Ripper murders, and the terrifying name that he gave to himself, have come to haunt the imaginations of all the generations that followed, while latter day serial killers have themselves created a similar degree of terror by utilising the same epithet. We've had the Bavarian Ripper, the Rostov Ripper, the New York Ripper, and of course, the infamous Yorkshire Ripper.
But in STRANGERS, I opted to turn this on its head a little, and introduced Jill the Ripper, a female sex-killer of men, a deranged prostitute who literally butchers her clients and leaves their corpses near well-travelled roads or footpaths. Thus, when Lucy Clayburn went under cover in her first novel, she wasn't standing with the goodtime girls because she expected them to be targetted, she was standing with them because one of them was seeking targets of her own.
But while flipping things over and inverting the hunter and hunted thing from male v female to female v male was not the exact adaptation of a true case, something very similar did happen in real life. Not the way I wrote it in STRANGERS – in fact the reality was all too tragic and ghastly a business, and the murderess involved was very far from being the glamorous 'princess of the night' figure, as Lucy is referred to at one point.
Aileen Wuornos had an appalling childhood, in Michigan, during which she was abandoned by her mother, and sexually abused by her brother and grandfather (among others). Made homeless and transient at the tender age of 15, she knew no way to live other than by trading sex with callous and often brutal men. At which point she actually began murdering the opposite sex is unknown, but all attempts to lead a normal life – she was even married at one point – failed, and the crimes she was actually investigated for began in 1989 in Florida, when the bodies of men who had been stripped naked, beaten and shot, began to show up in roadside woods. Seven known instances of this occurred before Wuornos – who was said to be attractive despite often appearing as a burly, ragged figure, more at home in roadhouses and biker bars than strutting the late-night strip – was arrested.
More a tragic figure than a monster – though she could certainly be a monster when the mood was on her – she admitted her crimes but told a heart-rending tale of unrelenting abuse. However, she sold this excuse a little too hard when she added the explanation that every man she'd killed had raped her first (of all the victims, only one was known to have a criminal record).
The awful tale ended in 2002, when Wuornos was executed by lethal injection. I first read about the case in the Sunday papers at the time, was duly horrified, and then forgot about it. It was only years later when, looking for a debut novel for Lucy Clayburn, with a suggesion from my publishers that I consider something involving undercover action, that I remembered it and opted to tell a plain clothes murder story with a big, big difference.
The other book in the Lucy Clayburn duology is SHADOWS, which was published on October 19 this year. And this too was influenced by an astounding story I'd heard, again from the US, about a criminal case that is very unlikely to occur again.
Now that STRANGERS is out in the public domain, and has been published for over a year, it's fairly common knowledge that Lucy Clayburn is in a unique position as a Greater Manchester police officer because her estranged father – someone she never knew until she was 30 years old – is a major figure in the local crime syndicate. When SHADOWS commences, father and daughter co-exist in a kind of secret but uneasy truce, each aware of the other and both knowing that if this tightly guarded information becomes public knowledge, it will be the end of both their careers.
Lucy, who was originally a PC, has now been permanently assigned to divisional CID, and is working as a detective constable, in which role she deals with day-to-day offences, such as car thefts, assaults, burglaries and the like. However, when she is co-opted to work with the illustrious Manchester Robbery Squad, and pulls out a real plum for them, they view her as a potential permanent attachment, a prospect she is very excited by. The only problem arises when a gang of armed robbers known simply as the Red-Headed League begin hitting soft targets with extreme force, expending multiple rounds of ammunition and leaving mortally wounded victims behind them.
This would be a great case for a new-made Robbery Squad detective to work on, except that the targets are all members of the criminal underworld, associates of the Crew, her father's outfit. This leaves Lucy in the invidious position of having to hunt for the villains while her father does the same thing, all the time unable to name and shame him, even though she knows that if he and his cronies make the capture first, there'll be no arrests, no charges – there'll simply be a lot more killing.
The real-life case that inspired this was that of New Yorkers, Tom and Rosemarie Uva, who in the early 1990s saw themselves as a latter-day Bonnie and Clyde, and launched a series of armed raids against the interests of the New York Mafia. Incredibly reckless though this seems, there was a logic to it: the hoodlums they struck were often cashed-up, and were very unlikely, once the crime was over, to call the police. In addition, Tom Uva had already done time for armed robbery, so he was no novice.
In several months, they struck at least 12 times, robbing Mafia bars, card-schools and social clubs at gunpoint, bullying, brutalising and threatening their targets with the sort of vicious violence that usually travelled the other way.
As in SHADOWS, law enforcement didn't get onto this case as quickly as the mob themselves did. In due course, it became a two-horse race to pull the bandits in, though in real-life it ended the way you'd expect, with Tom and Rosemarie shot to death by Mafia assassins on Christmas Eve, 1992.
How will it end in SHADOWS?
Well, no disrespect to you guys, but you'll need to read that one for yourselves, and find out.
Eeeeeeek! I think that has got to be one of my FAVOURITE guest posts from an author! Thank you SO much, Paul for stopping by my blog today…and #bookjunkies…do as the man says! Grab a copy of SHADOWS and find out for yourselves what happens!