Today on my blog, guest reviewer – Claire Knight, is sharing her thoughts on Caroline Mitchell's final instalment in the DS Ruby Preston series – MURDER GAME!  First though, a little about the author and this book….then grab a cuppa and enjoy Claire's review!
ABOUT THE AUTHOR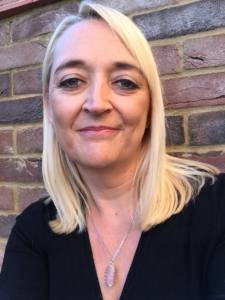 USA Today Bestselling Thriller Author.
Originally from Ireland, Caroline lives with her family, parrot and two dogs in a pretty village on the coast of Essex. A former police detective, Caroline has worked in CID and specialised in roles dealing with vulnerable victims, high-risk victims of domestic abuse, and serious sexual offences. Published by Bookouture and Thomas & Mercer, she now writes full time and all her books have become number 1 best sellers in their categories.
Her fast-paced DC Jennifer Knight thrillers carry a hint of the supernatural and are weaved from Caroline's personal experiences in the police and paranormal.
Set in Shoreditch, London, her DS Ruby Preston series is described as "terrifying, addictive serial killer thrillers".
Caroline also writes psychological thrillers, the most recent, Witness, has been described as "thrilling, tense, exciting, dark and twisted in the best possible way".
Author Social Media Links:
ABOUT THE BOOK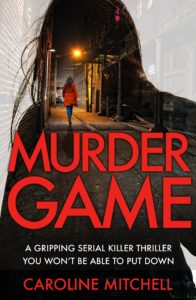 A serial killer is playing a terrifying 
game

 of life or death with his victims. After he captures them, a countdown begins. He marks the time by sending clues to the whereabouts of the women he has taken in three disturbing images: alive, tortured, dead.
In a race against the clock, East London Detective Ruby Preston must play the twisted killer's terrifying 
murder

 

game

 and decipher the clues before more women die…
But this isn't the first time the police have seen such a sickening crime. The notorious Lonely Hearts Killer, Mason Gatley, was put behind bars ten years ago for murdering six women in exactly the same chilling way. Desperate for more information, Ruby persuades her boyfriend, Nathan Crosby, to use his criminal connections to set up a dangerous meeting. Because to catch this killer, she needs to think like one…
But the closer Ruby grows to the dark and charming Mason Gatley, the more worried her team become. Is Mason really helping her catch the killer? Or is he lining Ruby up to be his next victim?
Fans of Angela Marsons, Rachel Abbott and Peter James will be hooked by this dark and utterly disturbing thriller, packed with twists until the final page.
Claire's Rating: 

5/5
⭐️⭐️⭐️⭐️⭐️
Claire's Review:
Caroline Mitchell has done it again! She's created a tense crime thriller that I could not read fast enough. I was desperate by the end to know who our culprit was. The clues are definitely there but they only make sense once there is the grand reveal.
The character of Mason Gatley was impeccably created.  Every conversation he had with Ruby gave me the creeps. She doesn't get a straight answer out of him and just the way he takes made my skin crawl!!
I do love Caroline's writing; it got pace balanced with intrigue and tension. She manages to seamlessly lead you (well me anyway) up the garden path only for it to be the wrong garden path and your mind is befuddled as to what's going to happen next.
The Ruby Preston series shows off Ms Mitchell's past life as a police officer. With each of these books, I've felt I'm right there in the investigation but fighting the internal battles with red tape and under-resourcing.
I hope to see more of Ruby Preston in the future.  Her relationships with Nathan and Cathy are only just settling, I'd love to see how this progresses particularly if Cathy does follow the career path she's thinking of! Nathan's brother doesn't feature as much in Murder Game but he is definitely lurking in the background, letting his presence be known.
My thanks to Bookouture for my early copy of Murder Game and for inviting me on the #BlogBlitz.  And a big squishy thank you to Noelle for letting me host the #CrimeBookJunkie stop.
Great review Claire! My review for this book should be up soon, so #WatchThisSpace. If Murder Game sounds like your kind of read – grab a copy via amazon/the link below!  Follow the tour and see what everyone else thinks too!!