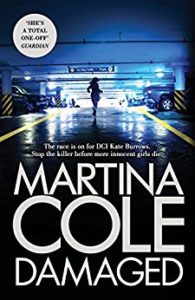 Synopsis:
When the bodies of missing schoolgirls start turning up, former DCI Kate Burrows is dragged out of retirement.
A new Grantley serial killer is in town and DCI Annie Carr turns to Kate for help. She welcomes the distraction from her home life with former gangster, Patrick Kelly, whose long lost son has turned up out of the blue, bringing trouble with him.
It soon becomes clear the killer is on their doorstep and as the body count grows, Kate and Annie face a race against the clock.
But they have no real leads … and there's more to these murders than meets the eye. Can Kate take the killer down before another schoolgirl dies?
My Rating: 5/5
⭐️⭐️⭐️⭐️⭐️
My Review:
Woohoo! I am a MASSIVE Martina Cole fan, so I was really looking forward to this book when it came out! Kate Burrows is back! ??
The reader is taken back to Kate Burrows' stomping ground of Grantley and faced with the past; consequences; feelings of entitlement; the implications of the internet and how it can be used; lost innocence; greed; jealousy and a search for the truth to name a few of the themes throughout this novel.
Immediately the author delivered one blazing #BOOM after another and I was HOOKED! Short, sharp chapters packed with information had me flying through this book in no time. I found the storyline intriguing and full of suspense. I loved seeing characters from past novels and where they were at in the present time.
Now a former DCI, I was so excited to meet up with Kate Burrows again! LOVE her! Intelligent, fiesty and determined to always find the answers – Kate is pulled back into her old job/world of policing when DCI Annie Carter is stumped on a case. She is certainly a woman not to be messed with!
Thrilled to see Patrick Kelly again too! Kate's real-life partner in crime, this couple just work! Patrick tries to stay on the right side of the law these days, but his blood is rich with badness, so he always has one hand in the dark side! We see a vulnerable side to Patrick as he is still grieving the death of his daughter, but life has thrown him a surprise and it may just be exactly what he needs…or is it?! *no spoilers* ?
The job is taking its toll on DCI Annie Carter with a disturbing case she feels unable to get a break in! Annie is hardened by the job but also extremely frustrated with the lack of resources.  When Kate returns to the team to help, a bit of the green-eyed monster shows. Will she be able to let go of those feelings and let Kate help solve the case? Read the book to find out!
Joseph/Bella and Christina – I am not going to say too much about these except I found Joseph to be a bit weak in his inability to be a man and make a choice. Bella is one crazy b*tch! Loved how that storyline panned out! ? and poor Christine – right place, wrong time in life….that is all I am going to say about that!
Wow! The killer is one messed up mofo! Nothing will sway the killer's view that what they do is for all the right reasons- everyone else's fault – the victim's are "asking for it" SCARY!!
Would I recommend this book? Ab-so-friggin-lutely I would! Hard-hitting, edgy, intense and riveting – you will find it hard to put down once you start!!