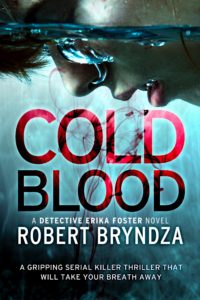 SYNOPSIS

:
The suitcase was badly rusted, and took Erika several attempts, but it yielded and sagged open as she unzipped it. Nothing could prepare her for what she would find inside…
When a battered suitcase containing the dismembered body of a young man washes up on the shore of the river Thames, Detective Erika Foster is shocked. But it's not the first time she's seen such a brutal murder…
Two weeks earlier, the body of a young woman was found dumped in an identical suitcase. What connects the two victims? As Erika and her team set to work, they quickly realise they are on the trail of a serial killer who has already made their next move.
Yet just as Erika starts to make headway with the investigation, she is the target of a violent attack. Forced to recover at home, and with her personal life falling apart, everything is stacked against her, but nothing will stop Erika.
As the body count rises, the case takes an even more twisted turn when the twin daughters of Erika's colleague, Commander Marsh, are suddenly put in terrible jeopardy. The stakes are higher than ever before, but can Erika save the lives of two innocent children before it's too late? She's running out of time and about to make a disturbing discovery…there's more than one killer.
Brilliantly gripping, Cold Blood will have you hooked from the first page and holding your breath to the heart-stopping and shocking ending.
My Rating

: 5/5
⭐️⭐️⭐️⭐️⭐️
My Review:
Errr….someone stop the clock! I think I have just come across one of THE BEST crime fiction thrillers I have read this year! OMFG!! I absolutely LOVE the Erika Foster series and I was absolutely thrilled to see Robert Bryndza kick up the #chillfactor by delivering this creepy, edgy and oh-so-friggin-twisted story!!
Set in London, the reader becomes embroiled in guilt, dysfunction, abandonment, power, control, vulnerability, manipulation, anger, revenge and justice.
Boom! Boom! Boom! Right from the start we are pulled in to this fast paced plot with a #killerhook in true Bryndza style! Bloody LOVE it! Just when you think the author could not possibly out-do his last book, Mr Bryndza smacks you in the face (metaphorically, of course!) with another stellar read!  Two strands merge into one in the most unsuspecting way and when it finally dawned on me what was happening- well OMFG- all the #BOOMS again! Tight storyline, totally messed up characters – along with the awesome Erika Foster and her team of course – as well as twists that leave you in eager anticipation as to what will happen next…well HIGH FIVE, Mr Bryndza – you nailed it!
There was a wealth of deliciously devious characters in this book as well as some of my faves. Erika Foster is carrying a lot of guilt in this book – no spoilers, but read LAST BREATH to find out more about what I am referring to. Poor Erika is not one for relationships it seems, but I love the human factor that oozes out of her in the last few books. Erika pushes herself to her limits and it seems she may just be on the verge of breaking if she keeps it up. I also think her vulnerability showed a lot more in this book than others and I really felt closer- if that makes sense- to her as a character.
Isaac- Eeeeek…love him. Not only because he has GREAT taste in men…hellooooo…Jason Statham….DELISH!! But also because he is so loyal, protective and bloody clever.  I seriously want to see a whole series with this guy taking the lead. #JustSaying
Peterson – hmmmm…..at first I was like "awwww" and then I was like "ooooh!?" Comes across as a bit of an emotional wimp…there, I said it – pull up your big boy pants Peterson! After reading this novel, I wonder if Peterson may be looking to move elsewhere….. and Moss – the voice of reason….Love! Love! Love! And poor Commander Marsh! I actually felt sympathy and then JAYSUS – wait until you see his wife putting Foster in her place.
I have to mention John McGory – HA! I bloody LOVE that name!! This is one character that wasn't really explored too much – but I was intrigued and do hope we see more of him in the next book of the series.
Nils Akerman – WTAF!? What an interesting character. I liked how this character developed through out this storyline. The minute his name was mentioned I was intrigued and my spidey senses were on high alert. I just didn't know what to make of him.
Ok- I can't move on from characters without mentioning Max and Nina…WTAF is going on this this pair? No spoilers but HOLY SH*TBALLS! If ever I wanted to smack some sense into someone it was Nina!! It took me a while to figure out how this pair fit into the story but when I did….jaw…on…the….floor! What a revelation! This pair had me picturing Mickey and Mallory every time I turned the page. If you don't know the reference, you will (possibly) by the end of the story. Fans of serial killers and films, will probably guess that easily!
I realise that this review is full of teasers and short, sharp OMG descriptions, but if I wrote anymore, I may just giveaway the evil, intense, emotive, punch-you-in-the-gut storyline – and I really don't want to do that!  I hope it has made a little sense and maybe got you thinking- "I HAVE to read this book!"…because you do!  Another – HELL YEAH recommendation from me, Cold Blood is definitely one to add to your TBR!
Grab a copy here: