Woohoo! Today I am thrilled to have Caroline England, author of Beneath the Skin on my blog with a cracking guest post on characters! Beneath the Skin can be described as being at the "domestic noir end of the crime spectrum… it's a slower, more nuanced and thought provoking read than fast paced crime" – ooooh I do love domestic noir! How bout we find out a bit more about the author and this book!
About the Author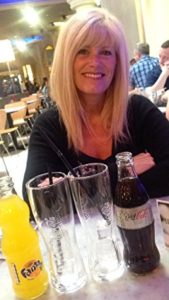 Born Yorkshire lass, Caroline studied Law at the University of Manchester and stayed over the border. Caroline was a divorce and professional indemnity lawyer and instigated her jottings when she deserted the law to bring up her three lovely daughters. In addition to the publication of her short story collection, Watching Horsepats Feed the Roses by ACHUKAbooks, Caroline has had short stories and poems published in a variety of literary publications and anthologies. She was shortlisted for the Impress Prize 2015, in the Pulp Idol 2016 finals and long listed for the UK Novel Writing Competition 2017.
Her debut novel, Beneath the Skin, was published by Avon HarperCollins on 5 October 2017. Her second novel My Husband's Lies will be published by Avon HarperCollins on 3 May 2018.
About the Book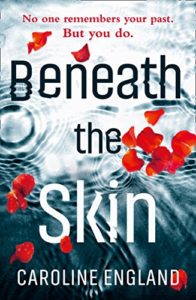 Three women. Three secrets.
Antonia is beautiful and happily married. Her life is perfect. So why does she hurt herself when nobody's watching?
Sophie is witty, smart and married to the best-looking man in town. She likes a drink, but who doesn't?
Olivia is pretending to be a happy wife and mother. But her secret could tear her family apart.
Their lies start small, they always do. But if they don't watch out, the consequences will be deadly.
Follow the author here: Twitter: @CazEngland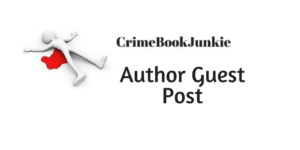 It may come as a surprise to those who've read my dark twisty short stories, but I'm a little in love with most of my characters, even those who lie, deceive and betray! It isn't just because I'm their creator, a mum who can see no bad in her kids. It's because they are human, and all us humans are imperfect, aren't we?
I love creating my cast, giving them parents or children, jobs, homes and hobbies. Deciding on age, height and hair colour. Dressing them, giving them personalities, tics, flaws and frailties. Making them fall in love! But what I like best is giving them a history, a past, and particularly a childhood. Admittedly I'm a bit obsessed with the human condition, but I like to explore how the child moulds the adult we become. And of course I give each person a secret.
Take my debut novel, Beneath the Skin, recently published by Avon HarperCollins. More character based than traditional crime thrillers, the story revolves around couples living in South Manchester and Cheshire whose lives weave and collide. Though the story is suspenseful, it's a slow and nuanced unfurling of each person's demons, an exploration of what's beneath their apparently happy facades.
Antonia bookends the novel. She is married to David. She has isolated herself physically and mentally and she secretly self-half harms to cope with her past.
David is gregarious, but his larger than life personality hides worries at work and a traumatic childhood tragedy.
Sophie appears brash and confident but she's hiding deep anxiety and fears close to her heart.
Her husband Sami's arrogance and conceit masks his insecurity and his constant need to be flattered and admired.
Olivia is a feisty and intelligent woman, but as a stay-at-home mum, she's lost her identity and finds herself in free-fall.
Though her husband Mike covers it with humour and Irish blarney, he's struggling with his faith and he's followed by the black dog of depression.
I know! But the novel does have its light moments, and at the end of the day, isn't it the dark side of life that many of us find intriguing? How boring life would be if we were all perfect!
How boring life would be, indeed! Loved that! Thanks so much to Caroline for that awesome guest post! Beneath the Skin is currently 99p (at the time of posting) so why not grab yourself a copy and delve in!