Today on my blog, guest reviewer Claire Knight shares her thoughts on MW Craven's (Mike Craven) Assume Nothing, Believe Nobody, Challenge Everything. I am a huge fan of Mr Craven's books and featured this novella back in 2015! Check out my review HERE.
So let's see what Claire has to say!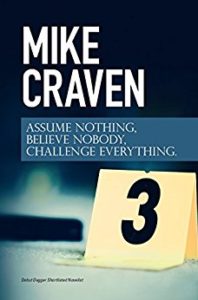 Synopsis
Betrayals of trust, poker cheats, ambitious barristers, cyber bullies, lost diplomats and revenge are just some of the themes explored in this collection of short stories. As Mike Craven introduces Detective Inspector Avison Fluke and the rest of his characters from Cumbria's Force Major Incident Team, in tales where little is at seems, the only thing you can do is Assume Nothing, Believe No One, Challenge Everything.
Claire's Rating: 4/5
⭐️⭐️⭐️⭐️
Claire's Review:
I met DI Avison Fluke earlier this year in Bodybreaker and even though I didn't feel I was missing anything by joining the series partway in, I decided to go back to the beginning and read the first Fluke book.
Assume Nothing, Believe Nobody, Challenge Everything is a collection of short stories that introduces you to Fluke and his team whilst solving crimes in Cumbria. They are all brilliant stories that you can read with a brew for 10/15 minutes. I have to say my favourite story is Skuttlebutt; I won't say too much but I saw the author's sense of humour shining through. I'll be returning to Cumbria and Fluke before long and reading Born In A Burial Gown.
If you fancy a police procedural read that's snappy and doesn't keep you waiting, I suggest you get yourself a copy of Assume Nothing, Believe Nobody, Challenge Everything.
Thanks for your review, Claire! I highly recommend the whole DI Avison Fluke series and think this is a great introduction to the Force Major Incident Team (FMIT) in Cumbria ! Grab yourself a copy today!