Thrilled to be hosting the final stop on Gillian McAllister's Anything You do Say blog tour today! My thanks to the author and Michael Joseph Books/Penguin Random House UK for an ARC.  Right- let's do this!
About The Author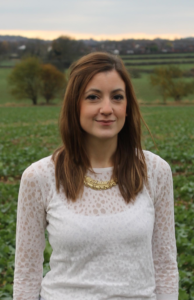 Gillian McAllister graduated with an English degree in 2006 and is now a lawyer with a large law firm.
Her blog has been featured in various publications including Company magazine. You can find it at www.gillianmcallister.com
She lives in Birmingham with her boyfriend and cat.
About The Book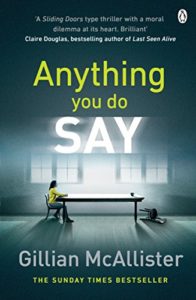 'I could run, or I could stay and call him an ambulance. Now it is decision time . . . '
It's the end of the night. You're walking home on your own.
Then you hear the sound every woman dreads. Footsteps. Behind you. Coming fast.
You're sure it's him – the man from the bar who wouldn't leave you alone.
You make a snap decision. You turn. You push. Your pursuer tumbles down the steps. He lies motionless, face-down on the floor.
Now What?
Call 999
Wait for the police to arrive. For judgement, for justice, whatever that may be. You just hope you husband, family and friends, everyone you love, will stand by you.
OR:
Run
Stay silent. You didn't mean to do it. You were scared, you panicked. And no one saw. No one will ever know. If you leave now. If you keep quiet. Forever.
Which is it to be?
My Rating: 4/5
⭐️⭐️⭐️⭐️
My Review: 
Where do I start?! Anything You Do Say was the kind of book that once I finished it – I really just did not know how I felt. I don't mean that in a bad way, either! I really had to reflect on what I made of the book – because it was soooooo cleverly written … I am still not even sure I know how I feel!
Set in London, the reader is thrown into a spectacular moral dilemma; mistakes; avoidance vs acceptance; loss; guilt; conflict; relationships and how one perspective can totally change your life if the wrong, or right decision is made. I have to say, this was brilliantly done and I actually wondered What would I have done in that situation?
I was initially confused by the writing style/ first person POV until I eventually caught on to what was happening! I must have been tired, because it really is not that difficult to follow at all! Short and sharp chapters (which I love) kept me turning the pages with an absolute desire to want to know what the heck was happening!! Although the book is told in first person POV – it is from two different perspectives of the same person. On the one hand we have REVEAL and the other CONCEAL and we follow the main character's journey down both paths.
The characters were an interesting bunch. The main character, Joanna Oliva was introduced to us in two different ways – we see someone who is scared, vulnerable, paranoid and then we see the manipulative, sneaky, calculating side. I could see where she was coming from on both sides, and I am not sure which side I actually liked more. As a reader we feel sympathy but also repulsion as we see where Joanna ends up based on which story she is telling.  Her husband, Reuben was blunt, a bit of an oddball, practical but the perfect yin to Joanna's yang. I am not sure I really connected with any of the characters, but for me – that worked. It was like an out of body experience – I was part of it all without the attachment. All the other characters in the book served to move the story along, but again – I didn't feel invested in them…because Joanna was the one I was following.
Would I recommend this read? Absolutely I would! Thought provoking, emotive and intense, it really was so well written I would be a fool not to shout out about it! I wish I could properly explain what a great experience it was to read such a different kind of thriller but instead, I leave it to you to grab a copy and see what I mean!