I am a BIG true crime fan and have been reading true crime books, stories and magazines since my very early teens. Unfortunately my TBR was just too much to take on Kathryn McMaster's request at the time, so I asked if my fab #guestreviewer, Claire Knight might be interested…she was..Woohoo! Here is her review!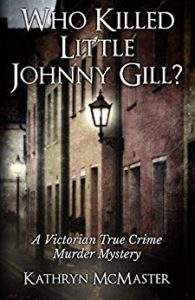 Synopsis:
A Heart-Wrenching British Murder Story covering the True Murder of Young John Gill in Yorkshire,1888.
One foggy morning, just a few days after Christmas, John Gill's mother waves goodbye to her eldest son that morning with no idea that this will be the last time she will see him. Johnny doesn't come home for his lunch and his mother starts to worry about him. The family search frantically for him for three days and nights. They search Manningham, and wider Bradford until someone finds him early on the Saturday morning, just meters from their home. His little body has been hacked up, drained of blood, thoroughly washed, his organs displaced and his intestines are draped around his neck eerily similar to the murders that have been happening in London done by Jack the Ripper. Several letters were sent by Jack stating that he would murder a little boy soon. After the murder another letter was sent stating that he had been up to Bradford. However, was this murder committed by the infamous Jack the Ripper? There are other clues involving Masonic rituals found in a local house at the same time of Johnny's death that point to the possibility that it was. And yet, William Barrett was the last one to see Johnny. The modus operandi could well be a copy-cat murder. In addition, William Barrett isn't saying much.
"Who Killed Little Johnny Gill?" is a fictionalised account of the true murder of a young boy in Bradford, England that is still considered today to be one of the worst British murders in England, despite the fact that it occurred in 1888 of Victorian Times. After the author presents the facts of this fascination English crime fiction novel, will you think William Barrett is innocent? Well, you will have to read the book to find out for yourself.
Claire's Rating: 4/5
⭐️⭐️⭐️⭐️
Claire's Review: 
I'm not normally one for a true crime story; I used to read a lot in my teenage years but lost interest as I got older. But "Who Killed Little Johnny Gill?" caught my attention as it's set just across West Yorkshire from me in the community of Manningham, just north of Bradford.
It's a Victorian murder mystery about a young boy of 7 who vanished whilst out on a morning milk round. A couple of days later his small lifeless body was found mutilated. The rest of the story is an insight in to the Victorian methods of detection and trial. This was the very infancy of forensic science so there was only limited help this could offer. There was no national police database, no telephones, no internet. It was all down to old fashioned policing, questioning witnesses, following the trail of clues and gathering evidence.
I did enjoy reading this account of the unfortunate case. It didn't feel too much like real life but the places were real and the writing was such that I could picture the industrial community being burdening with such a horrific event. After finishing the book, I did a bit of additional reading to find out more about the murder but the author seemed to cover everything out there! It's the sort of story that I could imagine being adapted for a costume drama!
If you like your historical crime, give this a read! It's piqued my interest in dipping my toe back into the true crime genre.
Many thanks to the author and Crimebookjunkie Book Blog for my copy of "Who Killed Little Johnny Gill?".
Thanks for sharing your thoughts here on my blog today, Claire.  If Claire's review has you curious…. you can grab a copy of this book by heading to amazon on clicking the book below!