Absolutely thrilled to be taking part in Katerina Diamond's The Angel blog tour today! My thanks to the author, Sabah Khan (Publicity Manager) and Avon Books for an ARC. First lets find out a bit abot the author and this book before I share my thoughts…
About The Author

Katerina Diamond lives on the east Kent Coast with her son and daughter. Born in Weston-super-Mare, she has lived in various places since including Greece, Cyprus, Derby, East London and Exeter. Her first novel reached number six in the Sunday Times Bestseller chart.
About The Book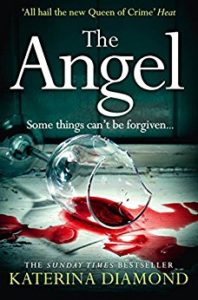 THE TRUTH WON'T STAY LOCKED UP FOREVER

When a burned body is found in a disused signal box, suspicion falls on lonely teenager Gabriel Webb. There's no doubt he was at the scene of the crime, but does he deserve what awaits him in prison?
DS Imogen Grey is certain there's more to the case than meets the eye. But while she struggles to convince those around her of the truth, her partner DS Adrian Miles is distracted by his own demons.
When a brutal double murder is reported, their investigation is stopped in its tracks. Is the body in the box even who they thought it was? The duo realise Gabriel might have been locked up for a crime he didn't commit. But with enemies watching Gabriel's every move, they may be too late.
Miles and Grey are back in the thrilling new novel from bestselling author Katerina Diamond, perfect for fans of Karin Slaughter and M.J. Arlidge, Orange Is The New Black and Locked Up.
My Rating: 4/5
⭐️⭐️⭐️⭐️
My Review:
Jaaaaaysus! I am ashamed to say that this is the first book by Katerina Diamond I've read – thankfully I have the other two books on my kindle and I'm now even MORE excited to read them!
Set in Exeter, the reader embarks on a journey which sees us coming face to face with mistakes, loss, secrets, fear, bullying, trust, weakness, abuse, the past, corruption and power & control.
OMFG what a fan-bloody-tastic opening!! Frenzied, fast-paced, compelling and the #killerhook pulled me into the pages! The pace was perfect – building up just at the right moments to deliver the #Booms as each chapter ended. The #justonemorechapter syndrome kicked in many times! I loved the prison focus and how emotive the storyline was. The narrative flowed and twists had me guessing!
This book had some awesome characters! I can't go through them all…and trust me, I want to, but that would spoil it for everyone. Gabriel Webb- rebellious youth, young and in love…finds himself in prison- one, stupid decision…His vulnerability comes through but then we see him grow, mature and his courage and inner strength take the lead. Such a great character!
DS Imogen Grey – wow! Love her! Intelligent, witty but maybe not so clever when it comes to her personal life. I love the fact that she is dating an ex con. She also has a real human side that leaps off the pages and made her very relateable.
DS Adrian Miles – Imogen's partner. Great banter between the two. He is a bit of a tease and a flirt. Has a lot to deal with, especially with his ex-wife and her new hubby- who by the way is quite an arsehole. Lucy  was another great character. I couldn't decide whether I liked her or not initially…but once the frost melted, she really grew on me…but OMG!!! That is all I am saying about that!
Dean: really loved him! Badboy with a good heart! Ok, maybe not exactly but he did have a lot of redeeming qualities. He could be somehwat unreliable and as the reader, you just did not know where to stand with this guy.
The baddies- we come across a few undesirable characters within this story – both inside prison and on the outside. The author writes them in such a way that at times you feel sorry for them, but other times you just want to kick the living daylights out of them! Read the book, I'll let you decide!
I was fascinated by the characters, storyline and setting of this novel as well as the different relationships and how everything tied together. Great dialogue and an emotive storyline kept me turning the pages. Each character seemed to have their own journey and demons to overcome. I enjoyed how I was taken in different directions and kept guessing pretty much every step of the way.  I was not even disappointed when I figured out a few things…as I was never 100% sure I was right!
Do I recommend this book? You bet your sweet arse I do! Edgy, intense and full of twists that keep you on your toes- I highly recommend you grab a copy of The Angel today!