After learning today that Gord Downie lost his battle with cancer, I thought I would repost this.  RIP poet, musician and legend ?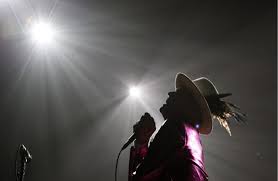 I know that music is not something I would normally post on my blog, but today is different and I will explain why in a wee while. Music, poetry and story-telling can go hand in hand –it certainly does with Gord Downie, lead singer of The Tragically Hip.  The Hip are a band that played a HUGE part in my teenage and university years back in Canada.  So when I first moved over to the UK in 1999, I must admit, I felt quite isolated and alone in London.  Nothing was familiar.  And then lo and behold, I saw that The Tragically Hip were playing at Shepherd's Bush in June 2000 and I quickly grabbed some tickets – as I could not miss my all time favourite band!
Back in August 2016, my sister sent me a link on Facebook announcing that the lead singer, Gord Downie, has terminal brain cancer and so the world will once again lose a legend of music to the "big C".  I was gutted.  But in true kick-ass Hip fashion, instead of signing off early and hiding away, Gord and The Hip have done a phenomenal tour of Canada as a final farewell and on the night I learned this, my friends Canada will be shutting down as the final curtain is closed on a true legend of music and a band that will forever be etched in my mind.
So how does this all link to books,stories, words that move us?  Well Gord Downie is not just any ordinary songwriter – he is a poet and a story-teller.  Many of The Tragically Hip songs tell the story of some piece of Canadian history.  The Canadian Encyclopedia has a fabulous homage of Gord's stories/songs and I urge you all to check it out, but I will share a few of my favourites.
Wheat Kings: This is my all time favourite song.  It tells the story of David Milgaard, a young Winnipeg-born hippie wrongly convicted of the grisly rape and murder of Saskatchewan nurse Gail Miller. He served 23 years in a Canadian prison before his conviction was over-turned.
In January of 1969, Milgaard and two friends took a road trip to Saskatoon. On the same night that the trio intended to briefly visit their friend Albert Cadrain, Gail Miller was attacked and killed in a downtown alley. Such a crime shook Saskatoon, and the local police were under serious pressure to find the killer and halt the minor hysteria that was spreading through the quiet Prairie town. After four months of no leads, the police used high pressure interview tactics and a $2,000 reward to coax a statement out of Cadrain. Although he and David's fellow road trippers kept changing their stories, Saskatoon's finest felt they had their man.
Perhaps the most poignant and powerful aspect of the Milgaard story is that even though David had 20 opportunities for parole during his sentence, he did not once make a request for an early release. This would have required him to admit to the crime, something he was never prepared to do. Had David accepted responsibility for Gail Miller's death, he could have been released.
Three Pistols: This is a TUNE!  But also a story. The song tells the legend of Tom Thomson, one of Canada's most influential and popular artists. Thomson's work served as the template for the Group of Seven. The circumstances surrounding his death in Algonquin Park in 1917 have been shrouded in myth and mystery for a century.
The song prominently references Thomson's fiancée, Winnie Trainor — his "bride of the northern woods" — who lived in a cottage on Canoe Lake, not far from the site that was purported to be Thomson's grave. She would visit the spot regularly and whenever she found flowers left by mournful campers or respectful pilgrims she would sweep them aside to keep the ground clear.
"Little girls come on Remembrance Day
Placing flowers on his grave
She waits in the shadows 'til after dark
Just to sweep 'em all away"
Courage: Written and dedicated to Hugh MacLennan, who is recognised as the first major English-speaking writer to attempt to portray Canada's national character with a focus on Canadian characters, locales, events and thematic concerns.
"While touring for Road Apples in 1991, Downie reportedly read MacLennan's The Watch That Ends the Night (1959), which MacLennan wrote during a bought of depression following the death of his wife. At one point in the story the protagonist, George Stewart, explains his failure to propose to the love of his life when he had the chance: "No prospects, too much pride. The depression. But mostly, not enough courage."
Stewart describes his existential epiphany in a passage that Downie paraphrases for the song's central verse: "But that night as I drove back from Montréal I at least discovered this: that there is no simple explanation for anything important any of us do, and that the human tragedy, or the human irony, consists in the necessity of living with the consequences of actions performed under the pressure of compulsions so obscure we do not and cannot understand them."
WOW!  See what I mean!?  All of the above references can be found on the Canadian Encyclopedia, along with a few more. So you see, music and stories are inextricably intertwined. Like books, music can reach right into your soul – evoke emotions, remind you of something that makes you smile – and this is exactly what The Tragically Hip do to me. Tonight is their last show. Canada will be shutting down. And I for one will be there in spirit.
Gord Downie you are a poet, songwriter and legend.  Thank you for the music and the memories. The Tragically Hip:  My Music At Work and The Darkest One