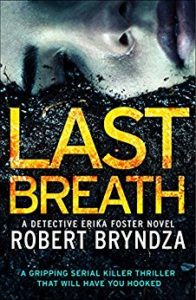 Synopsis
He's your perfect date. You're his next victim.
When the tortured body of a young woman is found in a dumpster, her eyes swollen shut and her clothes soaked with blood, Detective Erika Foster is one of the first at the crime scene. The trouble is, this time, it's not her case.
While she fights to secure her place on the investigation team, Erika can't help but get involved and quickly finds a link to the unsolved murder of a woman four months earlier. Dumped in a similar location, both women have identical wounds – a fatal incision to their femoral artery.
Stalking his victims online, the killer is preying on young pretty women using a fake identity. How will Erika catch a murderer who doesn't seem to exist?
Then another girl is abducted while waiting for a date. Erika and her team must get to her before she becomes another dead victim, and, come face to face with a terrifyingly sadistic individual.
Gripping, tense and impossible to put down, Last Breath will have you on the edge of your seat, racing to the final dramatic page.
My Rating: 5/5
⭐️⭐️⭐️⭐️⭐️
My Mini Review:
Set in London, we are face to face with the past, corruption, guilt, anger, shame, bullying, all is not what it seems and literally last breath is the underlying theme throughout this novel.
OMFG- Robert Bryndza never fails to disappoint with a #killerhook that immediately draws you into a fast paced game of cat and mouse! We learn who the killer is early on and so we are desperate for Erika Foster and her team to find the clues and catch the killer. I love the story arc and further development of the characters. I raced through this novel in a matter of hours.
DCI Erika Foster is newly promoted but struggling internally …and externally ..to come to grips with her new role. Erika misses the action and her old team which leads hers to injecting herself into a case and ruffling many feathers! I love her character and in this book she lets her guard down ever so slightly – but not for long!
I was thrilled that pathologist Isaac Strong made an appearance as I simply adore him! I hope the author considers branching out and maybe starting a new series with Isaac as the lead character. Who's with me?!
And whoa….Peterson…welly, welly well! I like the fact that we see a different side to the relationship between Peterson and Erika …but knowing Erika and her strong ties to her deceased husband – I wonder if self sabotage will come into play in future books.
I simply revel in Robert Bryndza's ability and skill to come up with such sick, twisted, deviant killers and I was not disappointed by this novel. I'll let you decide though, as I don't want to reveal too much!
Would I recommend this book? Abso-friggin-lutely I would! Great narrative, superb story arc and a style that will leave YOU on YOUR last breath by the end – this book is a must read! Pop over to amazon and grab a copy today!