HAPPY PUBLICATION DAY, ALEXANDRA SOKOLOFF!
Eeeeek!  I am over the moon to share my review for Alexandra Sokoloff's HUNGER MOON with you all today. My thanks to the author and Netgalley for a review copy — I was soooo desperate to read this and thrilled I received an ARC! Ok, Ok, Ok…enough babbling.  Let's get on with my review! Woohoo!!
About The Book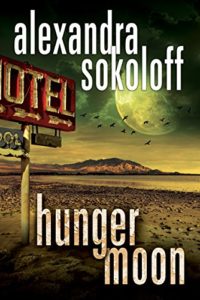 Revenge has no limits.
Special Agent Matthew Roarke has abandoned his rogue search for serial killer Cara Lindstrom. He's returned to the FBI to head a task force with one mission: to rid society of its worst predators. But as the skeletal symbols of Santa Muerte, "Lady Death," mysteriously appear at universities nationwide, threatening death to rapists, Roarke's team is pressured to investigate. When a frat boy goes missing in Santa Barbara, Roarke realizes a bloodbath is coming—desperate teenagers are about to mete out personal, cold-blooded justice.
Hiding from the law, avenging angel Cara Lindstrom is on her own ruthless quest. She plans to stay as far away from Roarke as possible—until an old enemy comes after both her and the FBI, forcing her back into Roarke's orbit. This time, the huntress has become the hunted . . .
My Rating: 5/5
⭐️⭐️⭐️⭐️⭐️
My Review:
This series is set in the US (California and surrounding areas) where the reader is confronted with survival; exploitation; anger; revenge; rape; victimisation; the abuse of power; politics; misogyny and justice. There was so much more in this book, but these were the main themes that screamed at me from the pages.
What I LOVE about Alexandra Sokoloff's writing is her skill at bringing current matters to the forefront and making the reader think -while at the same time entertaining the reader with a kickass story that really makes you feel empowered! I love this author's writing style and the ability to make the reader embrace a story with the same passion that she has for the subject at hand. I raced through this book easily and even though I would urge everyone to read this whole series – it bloody rocks – there is enough backstory of the previous books so that the reader won't feel lost.
OMFG! Now can we talk characters!!  There are SO many I want to mention, but to avoid this review turning into a novel itself, I will pick out the ones that left an imprint on me. Cara Lindstrom – Fierce, clever and a fighter of causes – she is a serial killer in the technical sense, but holy sh*tballs – you just cheer her as she delivers justice and rights the wrongs. As a reader, you are conflicted…but only for a brief second..because she breaks every law imaginable, is dangerous, stealthy but courageous in her search to destroy IT. I adore her!!
Matt Roarke *swoon* ? FBI profiler who is on the hunt for Cara. He is strong-willed, intelligent, a decent guy and yes…I may have a fictional crush on him! I love how his character has developed through each of the books in the series. Working closely with Singh and Epps I enjoyed the fact that we got to know a little more about these two. Both loyal and dedicated but never afraid to branch out and find their own truth.
"How do you like me now…" – Woohoo! Over the friggin moon to meet up with Jade again. A young warrior who had suffered so much in her short lifetime but never gave up fighting. She's totally driven by her anger – a young Cara in the making and the reader wills her to succeed because despite her strength, she is just a child whose innocence was torn away from her. Another of my favourite characters!
I am not even going to give the baddies the time of day except to say they made my skin crawl. Arrogant and ignorant, you want to be there when the retribution is unleashed!
Do I recommend this book! You better bloody believe I do! A highly emotive, action packed and intense read that will leave you wanting more! Make sure you grab a copy – you will not be disappointed!!