Today my guest reviewer – Claire Knight is hosting Barbara Copperthwaite's HER LAST SECRET blog tour and has a CRACKING review!  I absolutely LOVED this book and will post a review soon, but can honestly say it should come with the hashtag: #WTAFJustHappened ? Let's find out a bit about the author and this fabulous book first!
About The Author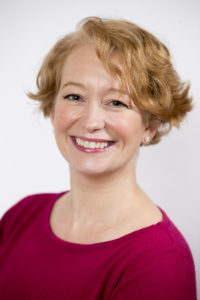 Barbara is the author of psychological thrillers INVISIBLE and FLOWERS FOR THE DEAD. Both have been Amazon best sellers. She is also the author of THE DARKEST LIES, and her latest book HER LAST SECRET is out on 13 October.
Much of her success is thanks to her twenty-odd years' experience as a national newspaper and magazine journalist. She's interviewed the real victims of crime – and also those who have carried those crimes out. Thanks to people sharing their stories with her, she knows a lot about the emotional impact of violence and wrong-doing. That's why her novels are dark, realistic and tackle not just the crime but its repercussions.
When not writing feverishly, she is often found hiding behind a camera, taking wildlife photographs.
Author Social Media Links:
Facebook: www.facebook.com/AuthorBarbaraCopperthwaite
Twitter: https://twitter.com/BCopperthwait
Instagram: https://www.instagram.com/author_barbara_copperthwaite/
Website: www.barbaracopperthwaite.com
About The Book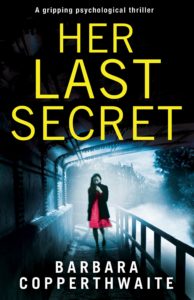 Some secrets you can never tell.
Everyone thinks the Thomases are the perfect family: grand London house, gorgeous kids.
They don't know wife Dominique is a paranoid wreck.
They don't know husband Ben is trapped in a web of deceit.
They don't know daughter Ruby lives in fear of the next abusive text.
But someone knows all their secrets.
Can the lies that bind them destroy them all?
This dark, gripping psychological thriller will have you holding your breath until the very last page. Fans of Behind Closed Doors, Gone Girl, and The Girl on the Train will be captivated.
Claire's Rating: 4/5
⭐️⭐️⭐️⭐️⭐️
Claire's Review:
Christmas is meant to be a happy time spent with family….but for the Thomas family it's far from happy. This is a family slowly crumbling because of one simple factor…communication.
Her Last Secret plays over two timelines: the days running up to Christmas Day and then through the eyes of a chief inspector on Christmas Day. I really liked the timeline running up to Christmas Day, it's told through all the main characters' eyes. Each chapter continues from the last part of that thread but from someone else's perspective. Each chapter makes that person a suspect in the events of Christmas Day. Mix in the Chief Inspector's finding and you're immersed into a dark crime thriller!
All the characters were brilliantly created but I have to say Benjamin was written perfectly. He's a selfish, career driven, money hungry man who has forgotten certain things in life. I really felt for Dominique. She's trying her hardest to keep her family happy but try as she might, no one seems to be content! The author managed to totally capture the whole teenage angst and rebellion in Ruby; another character brilliantly created. The more I read about Ruby, the more I wanted to give her a huge cuddle and reassure her everything will be ok.
I was on tenterhooks throughout trying to work out what had happened on that fateful Christmas night – my culprit kept changed more of the book I read. What I was left with was shocking and totally unexpected. Now that is the sign of a brilliant crime thriller! The author left me in tears by the ending!
I'm very angry with myself for not having read Ms Copperthwaite's previous books despite them being raved about. I will definitely be remedying that! I've got all her previous books buried on my kindle so there should be nothing stopping me….
Many thanks to Bookouture for my advanced copy of Her Last Secret and for having me on this blog blitz. Big squishy #doublerhubarbginandginger thanks to Noelle for letting me host the #crimebookjunkie stop!
Loving the #DoubleRhubarbAndGinger thanks, Claire! Cracking review for what I think is a superb read! Grab a copy here: