I am catching up on a few outstanding reviews and remembered my obsession with David McCaffrey's superb Hellbound anthology which I read in the completely wrong order over three days! #MyBad. My thanks to the author for a copy of this book to review. You can catch my review of the third book – Nameless HERE.
Today I am sharing a #minireview of the first book in this anthology: Hellbound – The Tally Man.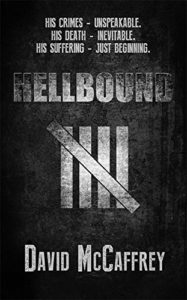 His crimes – unforgivable. His death – inevitable. His suffering – just beginning.
Obadiah Stark aka The Tally Man, is executed at ADX Absolom, his death sentence watched by the world's media, victim relatives and one investigative reporter, Joe O Connell. Penning an account of Stark's personal history and subsequent crimes in the hope of determining what elements make the sociopathic mind tick, Joe discovers clues and inconsistencies which cause him to investigate Stark's execution.
While this is happening in the real world, Obadiah Stark awakens to an afterlife where he has a wife and daughter bound to his childhood hometown. Following his natural predatory instinct, Obadiah proceeds to torment the town, committing multiple murders before being gunned down by the police. He awakens to find that everything has reset, with no one recalling his murderous spree a reality which offers no escape. As the scenes repeat, he is forced to submit to emotions he has never experienced before… and with it, a poisonous dose of morality.
My Rating: 5/5
⭐️⭐️⭐️⭐️⭐️
My #MiniReview 
Well OMFG what a deviously delicious story to devour! I cannot even find the words to describe how much I absolutely LOVED this book…but I will try!
The book starts out in a fictional prison – Absolom and is mainly set in Ireland. The reader is doused with themes such as: fear; manipulation; power; the past; loss; nature vs nuture; retribution and a clever dose of morality – what drives an individual to make the choices they do?
The author delivers the all important #killerhook which immediately had me fixated from the start! The story is delivered from three POV – Obadiah Stark, Joe O'Connell and reports from Dr Franklin, which I absolutely loved! David McCaffrey leaves the reader on edge as you race through the pages of this fast past read and superbly crafted narrative!  And that ending! #BOOM!! Totally-blew-my-mind!
The author has a wonderful ability, through description and dialogue to create some fantastic characters that draw the reader in.  Joe O'Connell – a journalist who decides to write a book based on serial killer, Obadiah Stark whose execution he witnesses. But all is not what it seems and things take a shocking turn as O'Connell digs deeper into the story of Stark. Trusting…maybe too trusting at times, intelligent, persistent and a great personality – Joe O'Connell is a hero we want to see succeed!
Obadiah Stark – well what I am about to say may shock you….but I LOVED him!! How can an author actually make you empathise with a twisted, sociopathic serial killer because that is EXACTLY what David McCaffrey did! Ruthless and relentless, we delve deeper into the depths of Obadiah's hell as we learn what emotions can do and whether they played a part in shaping this man into the killer he became. Damn…I can't believe I actually felt sorry for him! Well done, Mr McCaffrey – I may be even more deviant than I thought!
But that ending…WTAF? BRILLIANT!! I won't say anymore as I don't want to spoil it but yeah…. hats off to you, sir!
Would I recommend this book? A million times over I would, with bells on! Twisted, irresistable, powerfully addictive this is a must read for those of you who are drawn to the dark side!