Thrilled to be hosting the final stop (along with tour organiser, Caroline of Bits About Books) Ross Greenwood's Fifty Years of Fear.  My thanks to the author for an ARC of this book and Caroline for inviting me to be on the tour!  First let's find out a bit about Ross Greenwood before I share my review!!
About The Author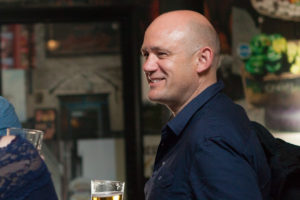 Ross Greenwood was born in 1973 in Peterborough and lived there until he was 20, attending The King's School in the city. He then began a rather nomadic existence, living and working all over the country and various parts of the world.
Ross found himself returning to Peterborough many times over the years, usually, so he says "when things had gone wrong." It was on one of these occasions that he met his partner about 100 metres from his back door whilst walking a dog. Two children swiftly followed. And, according to Ross, he is "still a little stunned by the pace of it now."
Lazy Blood book was started a long time ago but parenthood and then four years as a prison officer got in the way. Ironically it was the four a.m. feed which gave the author the opportunity to finish the book as unable to get back to sleep he completed it in the early morning hours.
Ross Greenwood's second book, The Boy Inside, was picked up by Bloodhound Books, and now, Fifty Years of Fear, is out. All his books are thought provoking, and told with a sense of humour.
Ross Greenwood hopes you enjoy reading them.
About The Book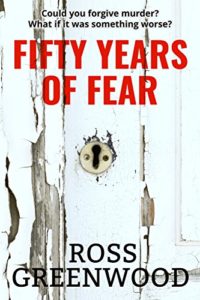 A childhood accident robs Vincent of his memories, causing him to become sensitive and anxious around others. His differences attract bullies, and he comes to rely heavily on the support of his family.
After the devastating loss of his parents, a remarkable woman teaches him to embrace life, and, little by little, he realises the world is far more forgiving than he imagined. When fragments of his memory return, he begins to unravel his past.
Who was his mother? What kind of man was his brother, Frank? And why does death surround him?
Fate is cruel. History is dark. Things are not as they seem.
Perhaps he should've stayed at home.
My Rating: 4/5
My Review: 
I had the absolute pleasure of reading this book way back in the early stages as a beta reader, and let me tell you – it was a story that really had me questioning everything!
The book opens in 1966 and we are taken through various decades as this story unfolds.  Violence as a way of life, relationships, dysfunction, mental health, fear, loss, buried secrets, decisions/choices and a journey of discovery are the main themes that stuck out for me.  The reader follows Vinnie as he tries to piece together his past and uncover a truth that made me wonder if it was better off buried …. what a story!
There is a steady build up of pace as the story unfolds – for me, it felt almost like a coming of age crossed with crime fiction…you know something is going to happen, you just don't know when.  There is a great narrative and the reader becomes entwined in this emotive story- the voice was strong and it made you listen! Tension and atmosphere were present and hung in the air like a thick mist – the reader is just pulled into this piece of fiction whether you want to or not!
There are so many unique and interesting characters in this story – Vinnie being one. He is a complex and perhaps even a slightly unintentional unreliable narrator. What a journey he is on! He tries his best to be "the good son" in stark contrast to his brother, Frank – but just cannot do right.  Frank is a bully and uses violence as a means to an end – but he is so protective of his brother – you have to admire that.  And their mother – well jaysus …that is all I am going to say about that!! Vinnie's wife played a poignant role in his life and some aspects of her story were just so tragic. There were definitely aspects of this story that I just wanted to know more about or expanded on a bit more, but it didn't stop me from enjoying the book as a whole.
In short, this is definitely a book I would recommend. It is not a thriller, but a book you need to sit back and absorb – each word, each page and each chapter. Captivating, complex and enthralling – grab a copy of Fifty Years of Fear now! You won't regret it!