Morning, #bookjunkies!  Today, my guest reviewer Claire Knight has reviewed Mary Kubica's Every Last Lie. My thanks to HQ Digital for contacting me, agreeing for Claire to review and providing an ARC. So, let's get to it!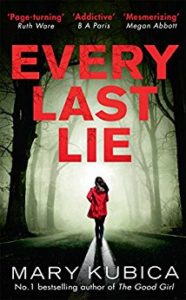 Synopsis:
She always trusted her husband.
Until he died.
Clara Solberg's world shatters when her husband and four-year-old daughter are in a car crash, killing Nick while Maisie is remarkably unharmed.
But when Maisie starts having nightmares, Clara becomes obsessed that Nick's death was far more than just an accident.
Who wanted Nick dead? And, more importantly, why? Clara will stop at nothing to find out the truth – even if it makes her question whether her entire marriage has been a lie…
Claire's Rating: 3.5-4 ⭐️'s 
Claire's Review:
I'd heard high praise of Mary Kubica since her debut The Good Girl, so when I was offered her latest book Every Last Lie, I jumped at the chance!
The story is split in two, alternating chapters between the present and the past. In the present, we join Clara, a grieving widow with babe in arms and young daughter who is totally in the dark of where her daddy is. As for the past thread, we meet Nick, the recently deceased husband and father.
The more I read, the more my emotions were played with. The more I wanted to give Clara a big hug and the more I wanted to slap Nick. Clara was desperately trying to hold it together whilst her daughter is suffering from the patchy memories of the car accident that took her father. Add in a mother suffering from dementia, a father who's trying to be there for everyone and the inevitable deprived sleep every new mother is destined to suffer and you've got a woman at her breaking point.
The writing style of Ms Kubica gripped me from the start right to the end; I was literally turning the pages desperate to reach the climax of whether Nick's accident was just that, a tragic accident or was there someone else involved? This sinister tale keeps you guessing all the way through!
Many thanks to Anna Massardi at HQ for my copy of Every Last Lie! I'll be getting to The Good Girl soon!
Well that sounds intriguing! Head over to amazon if Claire's review has captured your interest! Thanks Claire, HQ Digital & Mary Kubica for stopping by my blog today!